#DiabetesChat: Travel & Diabetes – Tips for a Safe Trip by @HelpAroundApp users (June 16, 2015)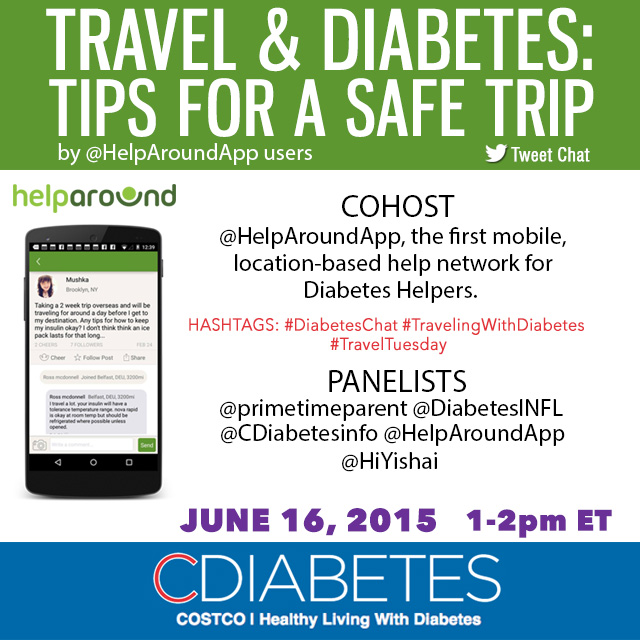 Summer is coming. Are you going on a trip soon? If you have diabetes, travel means a change in routine and requires some extra planning.
Last June 16, 2015 between 1pm and 2pm ET, CDiabetes.com was joined by @HiYishai, co-founder of the @HelpAroundApp, who gave event participants the best travel tips. Also on our Tweet Chat, we shared advice from @HelpAroundApp users on traveling with diabetes, going through airport security with a pump, packing supplies, and dealing with food on vacation.
For those of you who haven't checked it out yet, the @HelpAroundApp is the first mobile, location-based help network for Diabetes Helpers that connects people touched by diabetes, locally and globally. The free app is available on iPhone and Android http://bit.ly/1JHeTQu
We extracted a transcript of the event and placed it here for everyone's reference.
Click here to view the analytics of this Twitter chat event.
Event Transcript
---
| | |
| --- | --- |
| cdiabetesinfo | People w/diabetes are 2X more likely to develop gum disease Colgate Total helps #DiabetesChat http://t.co/lKJSCUL15e http://t.co/XygSVwmfaF |
| cdiabetesinfo | Costco KS OPTIFIBER Quickly dissolves in hot or cold beverages & soft foods: #DiabetesChat http://t.co/xe3JPqp37k http://t.co/QkdsP1OdON |
| cdiabetesinfo | FREE OneTouch Ultra®2 or UltraMini® Meter from Costco Pharmacy! #DiabetesChat http://t.co/lsw2ZnlX4a http://t.co/CkzskI4FVM |
| cdiabetesinfo | Get a FREE TRUEresult blood glucose monitoring system @ Costco pharmacy today! #DiabetesChat http://t.co/CQl1ClXFmV http://t.co/7HuGUU0o4b |
| cdiabetesinfo | Great prices on Weider® Red Yeast Rice Plus @Costco! Helps lower cholesterol: http://t.co/R5KN0G6fD0 #DiabetesChat http://t.co/tpwHJWGgVX |
| cdiabetesinfo | Free shipping on Costco KS Quit2 Gum! +tips to quit from a Costco pharmacist: #DiabetesChat http://t.co/cxjWmhjLWL http://t.co/cD938QiSy5 |
| cdiabetesinfo | Save on a case of Glucerna® Shakes @Costco Helps minimize blood sugar spikes #DiabetesChat http://t.co/aJkOkVWlN5 |
| cdiabetesinfo | Free Shipping on Cosamin® DS 230 Capsules-Help Promote Joint Comfort & Mobility http://t.co/A1qcNiyFSa http://t.co/BttFhyRu7s #DiabetesChat |
| cdiabetesinfo | CinSulin® water extract of cinnamon @Costco supports healthy blood sugar levels #DiabetesChat http://t.co/AMXVaSubLg http://t.co/hedtj15df2 |
| cdiabetesinfo | Great prices on NatureMade vitamins @Costco For people w/diabetes & prediabetes #DiabetesChat http://t.co/G1i5CeU46l http://t.co/BQR1DPIBVk |
| cdiabetesinfo | Travel & Diabetes #TravelTuesday #travelwithdiabetes NEW TIME! today at 1-2pmET 6-16 #DiabetesChat |
| cdiabetesinfo | We are so fortunate to have @HiYishai frm @HelpAround App with us tonight for #DiabetesChat #TravelTuesday |
| cdiabetesinfo | Please welcome @HelpAroundApp @HiYishai #Diabeteschat #TravelTuesday |
| helparoundapp | @primetimeparent Glad to be here today for the #DiabetesChat about #travelingwithdiabetes |
| cdiabetesinfo | Grab our FREE e-book w/over 50 great diabetes-friendly recipes today at http://t.co/q2BiFvMfkz, compliments of Costco Pharmacy #DiabetesChat |
| koshereye | Preparing for #kosher travel and maintaining a healthy diet is quite challenging. #diabeteschat |
| shoshanan | How do u keep ur insulin cool? #travelingwithdiabetes Find tips on @HelpAroundApp http://t.co/0jaY5nvc5j #TravelTuesday #DiabetesChat #doc |
| cdiabetesinfo | Save on diabetes supplies! Bayer test strips- available on Costco CMPP program http://t.co/KUpPFp9lPC #DiabetesChat http://t.co/uCxAthecTx |
| cdiabetesinfo | Q1. Do you let #diabetes keep you from traveling? #TravelTuesday #DiabetesChat |
| cdiabetesinfo | Save on a case of Glucerna® Shakes @ Costco! Helps minimize blood sugar spikes. http://t.co/WRQ9Mogwpg #DiabetesChat http://t.co/kOUq7qsvG1 |
| koshereye | When we go on a road trip, we stock the car w/homemade #kosher foods-Spend much time in the supermarket upon arrival. #diabeteschat |
| amypcampbell | @CDiabetes.com: I know plenty of people who have diabetes and who travel often – requires a lot of planning, though! #DiabetesChat |
| helparoundapp | Don't let #diabetes keep you from traveling. Find tips on @HelpAroundApp http://t.co/4MSn6Uvmm6 #TravelTuesday #DiabetesChat #doc |
| diabetictalks | A1. No, I actually travel allot via plane and train. #DiabetesChat |
| cdiabetesinfo | Q2. How do you keep your insulin cool? #travelingwithdiabetes #TravelTuesday #DiabetesChat |
| cdiabetesinfo | yes planning is key when traveling with diabetes. #diabeteschat |
| koshereye | Costco is one of our favorite destinations in the U.S for drugs & food! @cdiabetesinfo #diabeteschat |
| cdiabetesinfo | Q3. What's your experience traveling with a pump? Please share your airport security tips #TravelTuesday #DiabetesChat |
| helparoundapp | How do u keep ur insulin cool? #travelingwithdiabetes Find tips on @HelpAroundApp http://t.co/euteoTUGQg #TravelTuesday #DiabetesChat #doc |
| amypcampbell | @CDiabetesInfo: Insulation packs made especially for insulin work well for travel. #DiabetesChat |
| diabetictalks | @2 There are products that are actually designed to keep insulin vials cold. Just Google "keep insulin cool" #DiabetesChat |
| primetimeparent | .@CDiabetesInfo @KosherEye we took entire suitcase of food down to Orlando w/our favorite #kosher snacks #TravelTuesday #DiabetesChat |
| koshereye | We travel with insulated bags filled with food, medications and ice pacs. #diabeteschat |
| diabetictalks | A2 Poucho Diabetes Cooler Carry is active by water. #travelingwithdiabetes #TravelTuesday #DiabetesChat |
| cdiabetesinfo | Free Shipping on Cosamin ® DS, 230 Capsules http://t.co/A1qcNih4tA #DiabetesChat http://t.co/PRR0t47riM |
| diabetictalks | A3 Only experienced an issue at a small airport, but they allow me to be patted down instead of going through the x-ray. #DiabetesChat |
| helparoundapp | @CDiabetesInfo Tell security you're wearing a pump – @HelpAroundApp users http://t.co/LRVxATOSjE #TravelTuesday #DiabetesChat #doc |
| diabetictalks | @HelpAroundApp @CDiabetesInfo Yes it is very important to tell before they have to ask. #DiabetesChat |
| cdiabetesinfo | Q4 Have you experienced any issue carrying your EpiPen and other supplies when flying? #travelingwithdiabetes #TravelTuesday #DiabetesChat |
| helparoundapp | Have u ever found yourself stuck when #travelingwithdiabetes? Share your story http://t.co/ncfEe0coaG |
| diabetictalks | A4 Keep all my diabetes supplies in my carry on and put the dupliciate supplies in a second bag #DiabetesChat |
| helparoundapp | A4 @HelpAroundApp users discuss carrying an EpiPen when #travelingwithdiabetes see http://t.co/ZN0h9kpan7 #TravelTuesday #DiabetesChat #doc |
| amypcampbell | @CDiabetesInfo: Always carry extra diabetes supplies with you when you travel – you never know when you'll need them! #DiabetesChat |
| cdiabetesinfo | Q5 Do you have any tips for backpackers with #diabetes? #TravelTuesday #DiabetesChat #travelingwithdiabetes |
| cdiabetesinfo | Costco KS OPTIFIBER Quickly dissolves in hot or cold beverages & soft foods: #DiabetesChat http://t.co/xe3JPq7rIK http://t.co/ETo3h35WYt |
| helparoundapp | @CDiabetesInfo @DiabetesTalks Q2 Our users recommend FRIO to keep insulin cool http://t.co/euteoUcieQ #TravelTuesday #DiabetesChat #doc |
| amypcampbell | A5 @CDiabetesInfo: Bring packets of alcohol wipes or wet wipes when backpacking to clean your hands before checking BG. #DiabetesChat |
| helparoundapp | A5 @CDiabetesInfo Backpackers with #diabetes share tips on @HelpAroundApp See here http://t.co/xwcjMw4xKy #TravelTuesday #DiabetesChat #doc |
| cdiabetesinfo | Q6. How can you best prepare for traveling with #diabetes? #travelingwithdiabetes #TravelTuesday #DiabetesChat |
| koshereye | Traveling abroad,we take extra medications along-Place them in two separate bags. Extra #kosher food snacks also,of course! #diabeteschat |
| bethrosen | RT @CDiabetesInfo: Make sure to follow @primetimeparent @CDiabetesinfo @DiabetesINFL @HelpAroundApp @HiYishai #DiabetesChat #TravelTuesday |
| alyssaavant | RT @CDiabetesInfo: Always carry extra diabetes supplies with you when you travel – you never know when you'll need them! #DiabetesChat |
| cdiabetesinfo | Great prices on NatureMade vitamins @Costco For people w/diabetes & prediabetes #DiabetesChat http://t.co/G1i5CfbEXT http://t.co/1TMga2NOdI |
| amypcampbell | @CDiabetesInfo: Talk with your diabetes care team before traveling and come up with a game plan. #DiabetesChat |
| helparoundapp | Q6 @CDiabetesInfo Take extra everything! @HelpAroundApp users abt #travelingwithdiabetes http://t.co/xwcjMw4xKy #TravelTuesday #DiabetesChat |
| diabetictalks | Q6 Duplicates of everything, prepare for the worst but expect the best. #travelingwithdiabetes #diabetes #DiabetesChat |
| managediabetes | Planning a getaway this summer? Use these tips to make your trip as stress-free as possible!: http://t.co/xNf9NO88XQ #DiabetesChat |
| helparoundapp | #Travelingwithdiabetes & need extra syringes? Ask on @HelpAroundApp http://t.co/ncfEe0coaG #TravelTuesday #DiabetesChat #doc |
| amypcampbell | @CDiabetesInfo: Also, learn a few key phrases in the native language, like "I have diabetes."#DiabetesChatTue Jun 16 10:23:58 PDT 2015   ReplyRetweetFavorite |
| cdiabetesinfo | Q7. Do you bring a letter from your doctor when #travelingwithdiabetes? #TravelTuesday #DiabetesChat |
| amypcampbell | @CDiabetesInfo: A letter from your doctor can make your trip through airport security a little easier. #DiabetesChat |
| cdiabetesinfo | Save Money on Medicine with the Costco Member Prescription Program http://t.co/ol9xLNzerI #DiabetesChat |
| helparoundapp | Q6 @CDiabetesInfo bring extra, you'll use lots of test strips #travelingwithdiabetes http://t.co/xwcjMw4xKy #DiabetesChat #doc |
| primetimeparent | Also my favorite topic #TravelTuesday #DiabetesChat https://t.co/KAuOpBYuCu |
| cdiabetesinfo | CinSulin® water extract of cinnamon @Costco supports healthy blood sugar levels #DiabetesChat http://t.co/AMXVaSLMCO http://t.co/4Pq8W6rTXS |
| cdiabetesinfo | CinSulin® water extract of cinnamon @Costco, supports healthy blood sugar levels http://t.co/Py0AfaGimR #DiabetesChat http://t.co/ilVBWtImfG |
| helparoundapp | Q7 @CDiabetesInfo our users advise to bring letter from dr #travelingwithdiabetes http://t.co/xwcjMw4xKy #TravelTuesday #DiabetesChat #doc |
| primetimeparent | .@amypcampbell @CDiabetesInfo I was once behind somebody wearing a pump at airport security, he knew what to do #DiabetesChat #TravelTuesday |
| helparoundapp | #Travelingwithdiabetes & looking for a doctor? Ask @HelpAroundApp helpers nearby http://t.co/ncfEe0coaG #TravelTuesday #DiabetesChat #doc |
| hollychronicles | @CDiabetesInfo @DiabetesINFL I meant travel! But Diabetes  is very interesting. #DiabetesChat |
| diabetictalks | Q7 Better safe then sorry. It helps if your backups fail and you need medical assistance. #DiabetesChat |
| cdiabetesinfo | Great prices on Weider® Red Yeast Rice Plus @Costco Helps lower cholesterol!: http://t.co/R5KN0FOEeq #DiabetesChat http://t.co/0snnmErJYyTue Jun 16 10:32:07 PDT 2015   ReplyRetweetFavorite |
| amypcampbell | @CDiabetesInfo: Speaking of traveling, if you're alone, it's a good idea to let someone else know you have diabetes. #DiabetesChat |
| cdiabetesinfo | @amypcampbell are there bracelets one can wear? #diabeteschat |
| cdiabetesinfo | Right. Scouts rule RT @DiabeticTalks Q7 Better safe then sorry. It helps if your backups fail and you need medical assistance. #DiabetesChat |
| helparoundapp | #Travelingwithdiabetes & need extra syringes? Ask on @HelpAroundApp free download http://t.co/ncfEe0coaG #TravelTuesday #DiabetesChat #doc |
| amypcampbell | @CDiabetesInfo Yes! Do a quick Google search and you'll find lots to choose from! Always wear one when traveling. #DiabetesChat |
| cdiabetesinfo | Q8 What tips do you have about food on vacation? #travelingwithdiabetes #TravelTuesday #DiabetesChat |
| diabetictalks | I always wear a bracelet, some look very nice and you would never know but the medics will. #DiabetesChat |
| helparoundapp | Q8 @CDiabetesInfo our users share tips about food on vacation when #travelingwithdiabetes see here http://t.co/HLvxfkqaro #DiabetesChat #doc |
| amypcampbell | @CDiabetesInfo: Always carry food with you (nuts, granola bars, fruit, yogurt) when traveling. #DiabetesChat |
| diabetictalks | Q8 Count your carbs. Sometimes when traveling and excited by the new experience we can forget. Silly but true. #DiabetesChat |
| cdiabetesinfo | Get a FREE TRUEresult blood glucose monitoring system @Costco pharmacy today! http://t.co/TJHfMbL6Lw #DiabetesChat http://t.co/OhLz5vkHZy |
| primetimeparent | @CDiabetesInfo A8 since we keep #kosher, we have to plan in advance regarding food #TravelTuesday #DiabetesChat |
| amypcampbell | @DiabeticTalks Good point! Use a carb counting app on your phone to make it easier. #DiabetesChat |
| diabetictalks | Yes! because with all the extra activity you need the extra carbs to avoid lows. #DiabetesChat https://t.co/tAMWYKsj19 |
| primetimeparent | .@DiabeticTalks I totally agree with that, vacation can often equal no diet #TuesdayTravel #DiabetesChat |
| liana3585 | @DiabeticTalks Eliot, it's so easy to forget when we just want to have a great time! #diabeteschat |
| amypcampbell | @CDiabetesInfo: If traveling abroad, look up types of food native to the country – be prepared! #DiabetesChat |
| helparoundapp | Great advice from @DiabeticTalks Don't forget to count your carbs when #travelingwithdiabetes #DiabetesChat |
| cdiabetesinfo | Bring yr sense of humor RT @liana3585 @DiabeticTalks Eliot, it's so easy to forget when we just want to have a great time! #diabeteschat |
| cdiabetesinfo | Q9 How do you get ready for a trip? #travelingwithdiabetes #TravelTuesday #DiabetesChat |
| diabetictalks | Q8. Ask the waiter or cook if they know the carbs in what you are eating as you never know they may know 🙂 #DiabetesChat |
| amypcampbell | @CDiabetesInfo: Make sure water is safe to drink. B safe and drink bottled water only if in doubt. #DiabetesChat |
| helparoundapp | Q9 @CDiabetesInfo Research local pharmacies b4 #travelingwithdiabetes More tips on http://t.co/3inJL7M1su #TravelTuesday #DiabetesChat #doc |
| diabetictalks | I found it best to map out my journey. Airport = long walks with heavy bags = less insulin or snack to cover… #DiabetesChat |
| amypcampbell | @CDiabetesInfo: Learn how to adjust insulin if crossing time zones. Your diabetes educator can help you! #DiabetesChat |
| diabetictalks | Then on plane, sitting still for hours requires more insulin to cover… #DiabetesChat |
| liana3585 | @DiabeticTalks I like that idea of mapping things out. Those heavy bags gotta have some snacks in them! #diabeteschat |
| cdiabetesinfo | You can find more information about exercise and #glucose management on the @CDiabetesinfo website http://t.co/4VFJpEzSbh #DiabetesChat |
| primetimeparent | @HelpAroundApp @CDiabetesInfo I noticed a lot of pharmacies in #Orlando, great for travelers at @DisneyParks #TravelTuesday #DiabetesChat |
| shoshanan | Q9 @CDiabetesInfo Take double of supplies if #travelingwithdiabetes More on http://t.co/w3alfnZFGc #DiabetesChat #doc http://t.co/6YPVOUlAvU |
| diabetictalks | Yes and like Amy said it is good to map it out with your CDE. #DiabetesChat https://t.co/anGfdqII1Z |
| cdiabetesinfo | Free shipping on Costco KS Quit2 Gum! +tips too quit from a Costco pharmacist: http://t.co/m34f2f8aaF #DiabetesChat http://t.co/V41SJLKVGQ |
| cdiabetesinfo | Where is everyone going on vacation this year (I need some good ideas) #diabeteschat |
| amypcampbell | @CDiabetesInfo: Realize that types/strengths of insulin can be different in other countries. #DiabetesChat |
| diabetictalks | Almost forgot after sitting for 4 or 5 hours remember the walk to baggage can be a long one. #DiabetesChat |
| cdiabetesinfo | RT @DiabeticTalks Almost forgot after sitting for 4 or 5 hours remember the walk to baggage can be a long one. #DiabetesChatTue Jun 16 10:48:44 PDT 2015   ReplyRetweetFavorite |
| helparoundapp | #Travelingwithdiabetes & need supplies? Ask on @HelpAroundApp free download http://t.co/ncfEe0coaG #DiabetesChat #doc http://t.co/eD3S8Eagpw |
| cdiabetesinfo | Q10 What can impact your BS when #travelingwithdiabetes? #TravelTuesday #DiabetesChat |
| cdiabetesinfo | People w/diabetes are 2X more likely to develop gum disease Colgate Total helps http://t.co/9GKxDBiiKJ #DiabetesChat http://t.co/6oiRHRTWfD |
| amypcampbell | @CDiabetesInfo: Drinking too much alcohol can definitely affect BG when traveling! #DiabetesChat |
| helparoundapp | #Travelingwithdiabetes? Find #diabetes helpers nearby on @HelpAroundApp http://t.co/ncfEe0coaG #DiabetesChat #doc http://t.co/5E707Ga6VQ |
| cdiabetesinfo | FREE OneTouch Ultra®2 or UltraMini® Meter from Costco Pharmacy http://t.co/vndJ5MWSnv #DiabetesChat http://t.co/8FPVMv1qp2 |
| cdiabetesinfo | Continue the conversation about #travelwithdiabetes "like" @CDiabetesinfo on Facebook #DiabetesChat http://t.co/C9EIxZ9SPh |
| diabeticconnect | @CDiabetesInfo I was traveling last week; increased basal rate, healthy snacks made huge difference! Best traveling BS ever. #diabeteschat |
| cdiabetesinfo | Share your tips with us on Facebook and Pinterest #DiabetesChat |
| diabetictalks | Q10 What doesn't, but seriously sitting still 4 long periods & surprise walks #DiabetesChat |
| primetimeparent | Looks like our suitcase, LOL! #TravelTuesday #DiabetesChat https://t.co/UcMKdRavxS |
| helparoundapp | Q10 @CDiabetesInfo Change in routine/activities/weather impact BS #travelingwithdiabetes more on http://t.co/3inJL7M1su #DiabetesChat #doc |
| cdiabetesinfo | Follow and pin us over on Pinterest #DiabetesChat – http://t.co/q2BJnXZ64p |
| amypcampbell | @CDiabetesInfo: Don't forget to wear good shoes (break them in first) and check feet daily when traveling. #DiabetesChat |
| diabetesinfl | Join our next #DiabetesChat w/ @DiabetesInCntrl 6-24 8pmET w/Steve Freed, R.Ph, CDE, CPT, Publisher of http://t.co/J9sITYd5Xs |
| cdiabetesinfo | Follow us on instagram #DiabetesChat #dailyinspiration http://t.co/WKz3YuZ0D2 |
| amypcampbell | @CDiabetesInfo: Good reference book called The Diabetes Travel Guide. #DiabetesChat |
| diabetictalks | Surprise running 🙂 or deviating from the planned activity can. #DiabetesChat https://t.co/4GfjBsRX7l |
| cdiabetesinfo | Please join us for our next #DiabetesChat on 6-24, 8-9pmET with @DiabetesInCntrl to discuss #BeatingDiabetes |
| cdiabetesinfo | Keep following us on Twitter and let us know about your #diabetes needs #DiabetesChat http://t.co/kS4ULWbapJ |
| diabeticconnect | @ShoshanaN @CDiabetesInfo I end up packing 3 wk supplies just to travel for 3 days. Excessive, but safe! #diabeteschat |
| alyssaavant | @DiabeticTalks I've had some surprises when traveling for sure #diabeteschat |
| cdiabetesinfo | Check out @CDiabeteinfo's website http://t.co/4VFJpEzSbh for past #DiabetesChat topics |
| cdiabetesinfo | Thank you to @HelpAroundApp @HiYishai for helping prepare better when we #travelwithdiabetes #TravelTuesday #DiabetesChat |
| primetimeparent | @DiabeticConnect @ShoshanaN @CDiabetesInfo We take a crock pot with us #DiabetesChat #TravelTuesda #kosher |
| helparoundapp | People with #diabetes help each other on @HelpAroundApp free download http://t.co/socS20O8aN #DiabetesChat #doc http://t.co/w1B9zjJX5r |
| cdiabetesinfo | CinSulin® water extract of cinnamon @Costco supports healthy blood sugar levels #DiabetesChat http://t.co/AMXVaSubLg http://t.co/hedtj15df2 |
| cdiabetesinfo | Free Shipping on Cosamin® DS 230 Capsules-Help Promote Joint Comfort & Mobility http://t.co/A1qcNiyFSa http://t.co/BttFhyRu7s #DiabetesChat |
| cdiabetesinfo | Save on a case of Glucerna® Shakes @Costco Helps minimize blood sugar spikes #DiabetesChat http://t.co/W5ic8XIFT0 |
| laurenpincusrd | WIN a @FitBit Flex! Ends tomorrow! @fitfluential #healthtalk #diabeteschat @nedpg http://t.co/7hlpaWeuGy http://t.co/KonmDZ4WHT |
| cdiabetesinfo | Free shipping on Costco KS Quit2 Gum! +tips to quit from a Costco pharmacist: #DiabetesChat http://t.co/cxjWmhjLWL http://t.co/xAQ8xT2Ruu |
| cdiabetesinfo | FREE OneTouch Ultra®2 or UltraMini® Meter from Costco Pharmacy! #DiabetesChat http://t.co/lsw2ZnlX4a http://t.co/cEfE5lBQRQ |
| cdiabetesinfo | Great prices on Weider® Red Yeast Rice Plus @Costco! Helps lower cholesterol: http://t.co/R5KN0G6fD0 #DiabetesChat http://t.co/gMN7NLxyhQ |
| cdiabetesinfo | Get a FREE TRUEresult blood glucose monitoring system @ Costco pharmacy today! #DiabetesChat http://t.co/CQl1ClXFmV http://t.co/OpwojU0Uji |
| cdiabetesinfo | Great prices on NatureMade vitamins @Costco For people w/diabetes & prediabetes #DiabetesChat http://t.co/G1i5CeU46l http://t.co/bxrVGCThfN |
| cdiabetesinfo | Costco KS OPTIFIBER Quickly dissolves in hot or cold beverages & soft foods: #DiabetesChat http://t.co/xe3JPqp37k http://t.co/QkdsP1OdON |