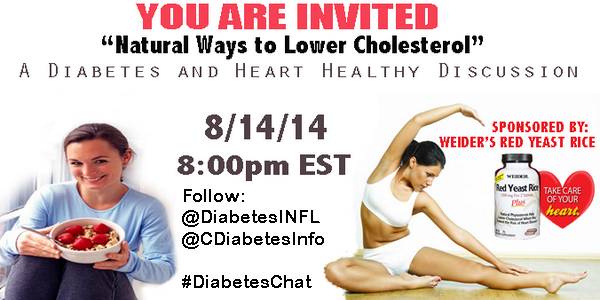 CDiabetes is joining up with The Diabetes Influencers Network and Weider Nutrition to host a twitter chat dedicated to educating the Diabetic Community on the importance of heart health. The chat is Sponsored by Weider's Red Yeast Rice.
People with Diabetes tend to have high cholesterol and triglyceride levels, which may explain why diabetics are so vulnerable to heart disease.
We are running a Twitter Chat Party with Erin Palinski Wade RD, CDE, LDN, CPT. The author of Belly Fat Diet for Dummies.
Join @CDiabetesInfo, @DiabetesInfluencers, @dietexpertNJ along with mommy blogger, @PrimeTimeParent Thursday August 14th from 8-9pm, EST on Twitter to discuss "Natural Ways to Lower Your Cholesterol".  If you join the chat, make sure to use the hashtag, #DiabetesChat or #Heart Chat to be entered into our contest to win one of 20 Weider Prize packages that will include Weiders Red Yeast Rice and Shaker bottle!!!
Here are some of the topics that we will be discussing during our #DiabetesChat:
Q1: Are you eating the right foods? #DiabetesChat
Q2: Are you eating the right amount of fiber? The righ kind of fiber? #DiabetesChat
Q3: Can losing weight help my cholesterol levels? #DiabetesChat
Q4: Alcohol, how much can I drink ?  #DiabetesChat
Q5: What effect does exercise have on my cholesterol? #DiabetesChat
Q6: Red Yeast Rice, What is it and what does it do? #DiabetesChat
Q7: How many servings of vegetables and fruit do you have each day? #DiabetesChat
Q8: What types of carbohydrates should I eat/ avoid? #DiabetesChat
AND MORE!!!!
---
 Remember, That's Thursday, August 14, 2014 From 8-9pm, EST
And Use The '#DiabetesChat' or 'HeartChat' To Win!
Follow Us @cdiabetesinfo Twitter
For The Latest Diabetes News, Information And Expert Advice.
---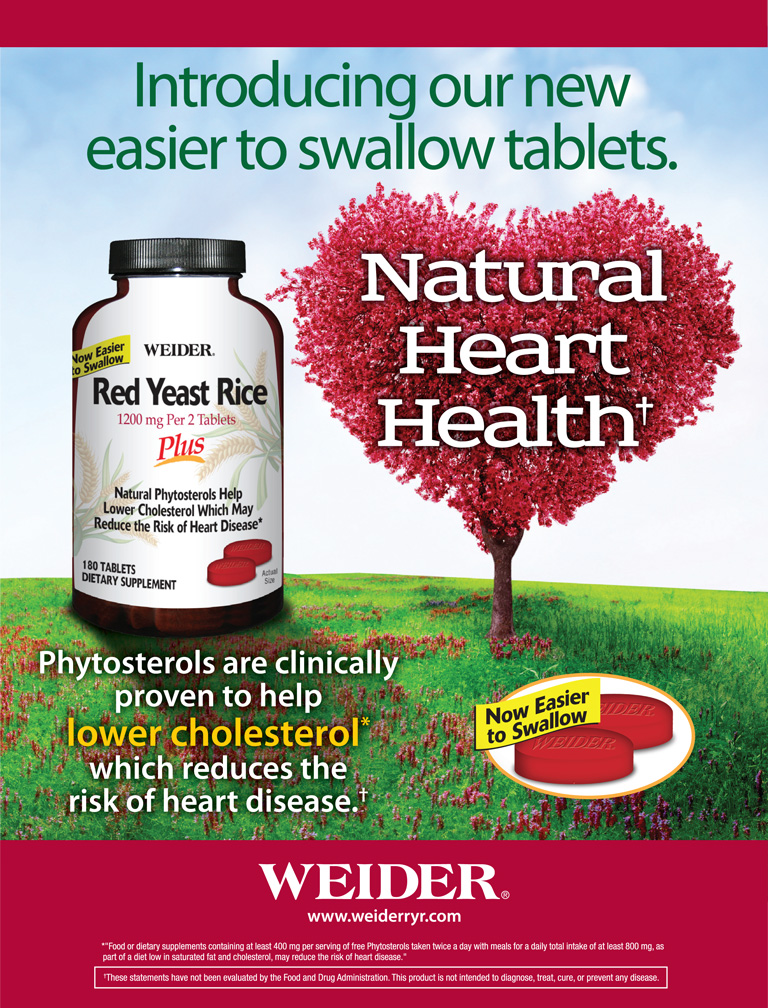 Available at your local Costco warehouse. Not available for purchase on costco.com.
Confidence of a trusted brand 
The power of a natural ingredient, plant sterols, to help manage healthy levels of blood cholesterol†
Weider Red Yeast Rice Plus, through its phytosterol content, is a natural product that works in conjunction with meals low in saturated fat and cholesterol to help lower total and LDL cholesterol.  And lowering total and LDL cholesterol may reduce the risk of heart disease.†
Take Control Naturally with Weider Red Yeast Rice Plus!
Research has shown that populations with a low incidence of coronary heart disease have dietary patterns that are not only low in total fat, especially saturated fat and cholesterol, but are also relatively high in plant foods that contain phytosterols, dietary fiber and other components.†
According to the FDA, "Food or dietary supplements containing at least 400 mg per serving of Phytosterols taken twice a day with meals for a daily total intake of at least 800 mg, as a part of a diet low in saturated fat and cholesterol, may reduce the risk of heart disease"  (21 CFR 101.83)
Diets low in saturated fat and cholesterol are diets that contain 10 percent or less of calories from saturated fat and total fat intake between 20 to 35 percent of calories. Recommended daily cholesterol intakes are 300 mg or less.
†These statements have not been evaluated by the Food and Drug Administration. This product is not intended to diagnose, treat, cure or prevent any disease.
Weider guarantees this product for purity, labeled freshness and potency.
Directions:
As a dietary supplement, take two (2) tablets twice daily with a meal.  Do not exceed four (4) tablets in a 24-hour period.
Supplement Facts:
Serving Size: Two (2) Tablets
Amount Per Serving – % Daily Value:
Red Yeast Rice (Monascus purpureus) 1200 mg – *, Plant Phytosterols 850 mg – *, Microalgae (Haematococcus pluvialis) (containing Astaxanthin) 1 mg – *.
*Daily Value not established.
Other Ingredients:
Microcrystalline Cellulose, Calcium Carbonate, Croscarmellose Sodium, Stearic Acid, Silicon Dioxide, Hydroxypropyl Methylcellulose, Magnesium Stearate Vegetable, Glycerine.
Contains: Soy
No Lactose. No Artificial Flavors. No Gluten. No Sodium. No Citrinin.
Red Yeast Rice is a natural product.  As a result, the color of the product may vary slightly from batch to batch.  This natural variation in color is not indicative of the potency or the quality of the product.
Warnings:
If you are pregnant, lactating or taking prescribed medication, consult your physician before using.  Discontinue use and consult your physician if any adverse reactions occur. Keep out of reach of children. Store in a cool, dry place with lid tightly closed.