Yoga Can Lower Your Heart Disease Risk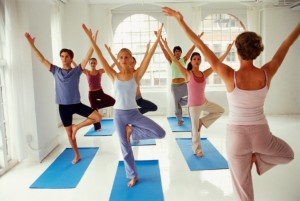 People with diabetes (both type 1 and type 2) have a high risk of complications like heart disease, heart attack and stroke. Luckily, many studies have shown that any kind of physical activity can lower your risk for these serious health problems, as long as you do it regularly. In fact, a recent study has shown that even yoga–with its deep breathing, stretches, and muscle building–can go a long way towards preventing heart problems. You may not have to do regular running, walking, or biking to lower your heart disease risk.
The research
This study was done by researchers at the Harvard School of Public Health, and the Erasmus University Medical Center in the Netherlands. They looked at 32 past studies to see if yoga can improve heart health risk factors as well as other activities, like walking and biking. Though many of the studies were small, overall, yoga does seem to be effective for:
Weight loss
Lowering cholesterol and triglycerides
Improving blood glucose levels
Lowering blood pressure
Reducing stress
Building muscle
Improving mood
The researchers aren't sure exactly why yoga is so good for your heart. But, they believe it may be the combination of strength training and meditation.
What this research means for you
Physical activity is good for everyone–especially people with diabetes. If you exercise at least 5 days a week, you are less likely to face diabetes complications like heart disease. This research shows that even if you don't like more traditional exercise, like walking, running, or swimming, you shouldn't stop trying to find an activity that works for you.
If this research has made you think about trying yoga, that's great news. Most cities offer yoga classes for all levels, even if you're a total beginner. There are also DVDs and online videos to help you get started at home. But before you start, remember to talk to your healthcare provider to see if it's safe for you to do so.
Starting yoga
If you and your healthcare provider decide that it's safe for you to try yoga, the first thing you should do is find a class in your area. There are many different types of yoga. Here are just a few you may see offered at your local yoga studio or community center:
Hatha yoga: Gentle, slow stretches and meditation
Power yoga: Fast, intense movements and deep stretches
Bikram ("hot") yoga: A series of challenging poses done in a hot room
You may need to try out a few different classes to find out which one you enjoy the most. Just make sure you don't do any movements or stretches that cause pain, and check in with your healthcare provider often to see if yoga is helping your heart.
Sources
http://www.independent.co.uk/life-style/health-and-families/health-news/yoga-health-benefits-study-reveals-this-ancient-practice-is-as-good-for-you-as-cycling-or-aerobics–but-scientists-cant-explain-why-9930656.html