#DiabetesChat Twitter Chat!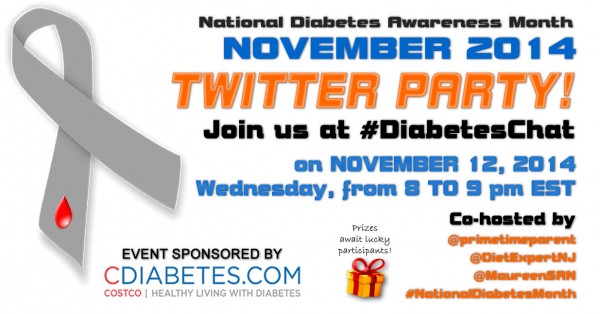 CDiabetes.com, home of the Costco Online Diabetes Magazine, is hosting a #DiabetesChat via twitter chat with some great prizes relevant to people living with Diabetes.
This discussion is sponsored by CDiabetes @cdiabetesinfo and the @DiabetesINFL and will be co-hosted by Erin Palinski Wade @DietExpertNJ and Maureen Sullivan @MaureenSRN, and Esti Berkowitz @primetimeparent.
Please join the conversation via twitter and use the #DiabetesChat hashtag. The party will go from 8pm EST-9pm EST on Wednesday, November 12. We will be answering your questions about living with diabetes and discussing ways to live with diabetes. Additionally, we will be discussing how cinnamon can help improve blood glucose control.
Join @primetimeparent @DietExpertNJ @MaureenSRN #NationalDiabetesMonth for a #DiabetesChat 11/12 8pmEST-9pm #prizes http://wp.me/p3MXyE-18q
Prizes for Lucky Participants
What would a twitter chat be without fantastic prizes? Some of our lucky participants will have the chance to win:
(1) A Microlife® Deluxe Arm Blood Pressure Monitor, with Advanced blood pressure AVERAGING technology. It is available exclusively at Costco for $39.99. A similar model with the same features would sell for up to $100.
(10) Bottles of trunature® Advanced Strength CinSulin®, 170 Capsules
(10) Copies of The Popular 2015 CalorieKing Calorie, Fat & Carbohydrate Counter by Allan Borushek, Registered Dietitian.
(10) Portable smart phone chargers for all phones, sponsored by trunature®
(2) Costco Gift Cards worth $50.00, sponsored by trunature®
(20) Colgate Total Advanced Whitening TP tubes + 360 Toothbrushes
About our co-hosts
@DietexpertNJ– Nutrition Communications Specialist/Dietitian/Personal Trainer/Diabetes Educator- Speaker-Author-2 Day Diabetes Diet/Belly Fat Diet For Dummies
@MaureenSRN– RN, CEN,CDE, educator, comedian and author. My 1st book was just published, get your very own copy at http://t.co/Ni1fou3JKg.
@primetimeparent Esti recently took her weight to a new level and put her health first. Esti is an advocate for Diabetes prevention and ambassador to the DiabetesINFL network.
@cdiabetesinfo and @DiabetesINFL An all-star network of leading health professionals dedicated to serving and educating people with diabetes and their families.