Get the New Easy Diabetes Cookbook, The Six O'Clock Scramble Meal Planner: A Year of Quick, Delicious Meals to Help You Prevent and Manage Diabetes
There's something soul-soothing about flipping through a cookbook — looking at the photographs, flagging recipes you want to try, and envisioning how delicious they'll be when your family sits down to enjoy them. Although many of us love finding recipes online, it can't replace the simple pleasure of using a real book.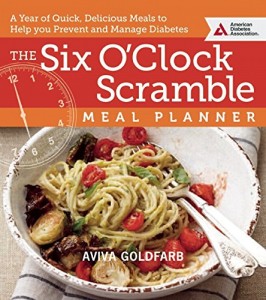 The Six O'Clock Scramble Meal Planner takes the stress and guesswork out of planning your dinners, whether you are cooking for 1, 2, or your whole family.
Pre-order this book today via Amazon or at Shopdiabetes.org, crack it open and start choosing which delicious dinners you want to prepare for your family first!
Here's what you'll love about this Easy Diabetes Cookbook:
160 delicious family-tested main dish recipes that require only 30 minutes or less to prepare
Color photos for every recipe!
Recipes that are organized by season and by week to give you variety throughout the year
Recipes that are built on natural, fresh ingredients
Suggestions for boosting flavor with variations on sauces, spices or mix-ins
Helpful tips to make cooking and shopping easier, saving you time and money
Healthy breakfast, lunch, snacks, dips, dressings and dessert ideas to keep your energy and mood up throughout the day
Take a peek at some of the recipes in the book:
Crispy Taco Tumblers (Recipe from The Six O'Clock Scramble Meal Planner: A Year of Quick, Delicious Meals to Help You Prevent and Manage Diabetes)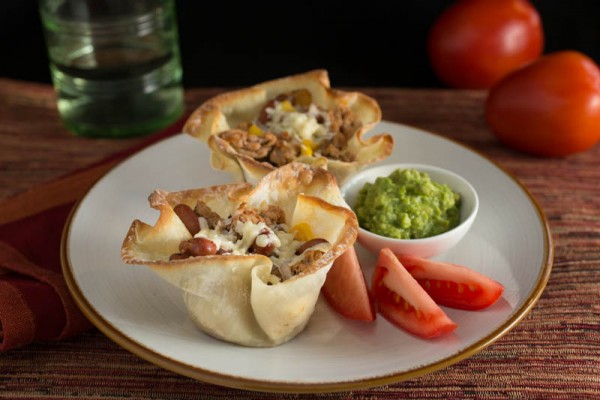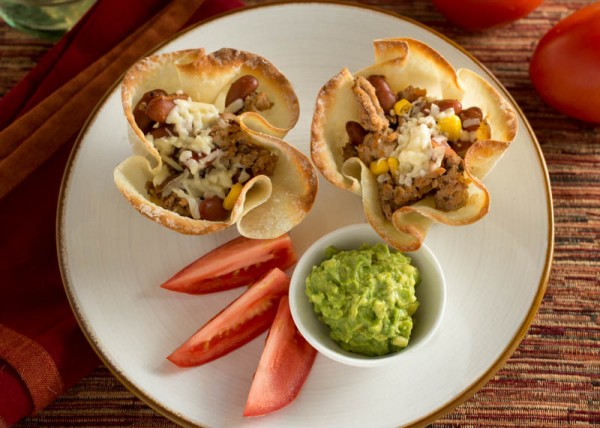 Prep + Cook: 30 minutes Serves: 8 Serving Size: 2 taco cups
My friend and hostess extraordinaire Katherine Newell Smith described these taco cups to me as a fun party snack, but seeing as we have a lot more family dinners than parties, I decided to make them a festive meal instead. It's always fun to have a meal that we can eat with our hands. Using meatless crumbles cuts the calories and fat and increases the fiber, and it's amazingly reminiscent of real meat. Serve them with guacamole with carrots and with Fruity Swirl Smoothies (recipes in book).
1 pound lean ground turkey or 12 ounces meatless crumble (such as Boca crumbles)
15 ounces canned kidney beans, drained and rinsed (or 1 1/2 cups cooked)
1/2 cup salsa, plus more for serving, any variety
3/4 cup frozen corn kernels
16 (7-inch square) egg roll wrappers (sold frozen or refrigerated)
1/3 cup shredded cheddar cheese
1/2 cup sour cream, for serving (optional)
1) Preheat the oven to 400°F. Meanwhile, in a nonstick skillet over medium-low heat, combine the meat, beans, and salsa and cook until bubbling. (Note: if you are using meat rather than meatless crumbles, cook the meat first, drain if necessary, and add the beans and salsa when the meat is just cooked through and cook for another minute or two to warm through.) Stir in the corn and remove it from the heat.
2) Using kitchen scissors, cut off the corners of the egg roll wrappers so they are circles instead of squares (this makes them easier to stuff into the muffin cups with room for the filling).  Press each egg roll wrapper into a muffin cup, leaving as much space in the middle of the cup as possible (see Tip below). Spray the surface of each cup with nonstick cooking spray (this isn't necessary if you don't like to use it, but it makes them crispier) and bake them for 5 minutes until they start to turn golden brown on the edges.
3) Spoon the taco mixture into each of the cups to fill them most of the way, and top each with about 1 teaspoon of cheese. Bake them for 5 minutes or until the cheese is melted and the shells are golden. Serve them immediately, topped with guacamole, salsa, and/or sour cream, if desired.
Exchanges / Choices
2 1/2 Starch
2 Protein, lean
Calories                     295
Calories from Fat    65
Total Fat                   7.0         g
Saturated Fat          2.4         g
Trans Fat                 0.1         g
Cholesterol                50 mg
Sodium                      425        mg
Potassium                 370        mg
Total Carbohydrate   37 g
Dietary Fiber             4  g
Sugars                      2  g
Protein                      20 g
Phosphorus               230        mg
Do Ahead or Delegate: Trim the egg roll wrappers as directed and refrigerate. Shred the cheese, if necessary, and refrigerate.
Tip: Here's how our talented food photographer Linda Wolpert makes the taco cups so pretty: When looking at the circular egg roll wrap, imagine that it is divided into four pie pieces. Bring each of the corners of the pie pieces up to the middle to make a flower. Gently settle the flower into the muffin cup, patting the overlaps so that they each go in the same direction.
Scramble Flavor Booster: Use spicy salsa, sharp cheddar or pepper jack cheese, and/or sprinkle a little hot sauce on each cup before serving.