Swedish Meatballs with Gravy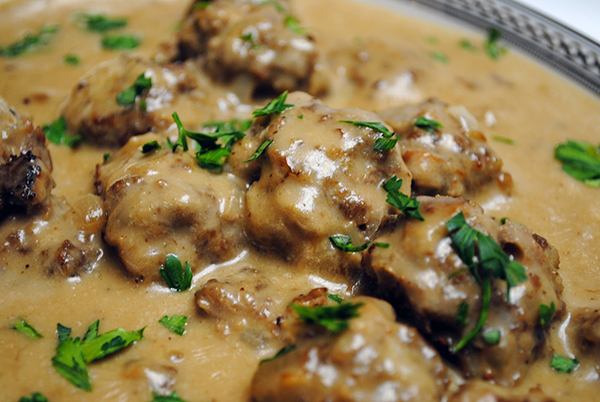 This hearty main dish can be served plain, with the suggested gravy or a more traditional berry jam. Omit the
breadcrumbs for a grain and gluten-free version.

Swedish Meatballs with Gravy
Ingredients
1 egg
2 tbs olive oil
1 celery stalk (minced)
1 small onion (minced)
1 lb lean beef
2 tsp garlic paste
¼ cup parsley (minced)
¼ cup breadcrumbs
½ tsp green chili paste
2 cups low sodium beef stock
Salt and pepper to taste
2 oz light cream cheese
Instructions
Take one pan and put it over medium flame. Add oil.
Add onion. Cook it until they become translucent. Add minced celery and parsley, and cook for another 3 minutes.
Take one bowl and add beef, onion mixture, egg, garlic paste, breadcrumbs, salt, pepper and green chili. Mix it well to form a dough.
Make walnut sized balls from dough.
Take a large pan and add beef stock. On medium flame, bring to a boil. Now gradually add meatballs to the broth.
Cover and let it cook for 20 to 25 minutes, or until they turn brown and are cooked throughout.
Now strain the beef stock and blend with cream cheese in blender to make a smooth gravy.
Pour the sauce over the meatballs. Garnish with parsley. You can also sprinkle fresh lime juice on it.
Nutrition Information
Calories:
213
Fat:
10 g
Carbohydrates:
8.5 g
Sugar:
2 g
Sodium:
346 g
Fiber:
1 g
Protein:
25.1 g
Cholesterol:
1 mg