Lentil Curry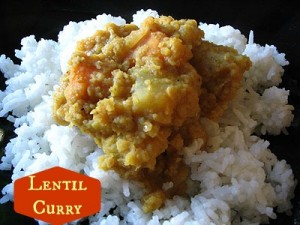 Ingredients
¼ cup red lentils
¾ cup brown lentils
4 cups water
5 garlic cloves, minced
¾ teaspoon salt
½ teaspoon cayenne pepper
¼ teaspoon turmeric
½ teaspoon dry cilantro, ground
1 tablespoon olive oil
¼ cup of sliced onion
1 teaspoon cumin, ground
⅛ cup skim milk
1 tablespoon fresh coriander, finely chopped
Instructions
Soak both lentils in a bowl filled with water for one hour or more. Overnight is best.
After soaking, drain the lentils and place in a saucepan. Add water, garlic, salt, pepper, turmeric and cilantro.
Bring to a boil. Turn the heat down to medium-low, cover and let simmer for about 30 minutes, or until lentils are tender.
When the lentils are about to cook, heat oil in a saucepan and sauté onions until lightly golden. Add the cumin and fry for 1 minute, or until fragrant.
Add sautéed onion along with oil and milk. Cook 5 minutes more over low and then sprinkle with chopped cilantro.
Serve hot with whole-grain bread or boiled rice.
Nutrition Information
Calories:
238
Fat:
5.5 g
Saturated fat:
0.5 g
Carbohydrates:
33.0 g
Sugar:
1.3 g
Sodium:
598 mg
Fiber:
8.6 g
Protein:
13.9 g