20 Minute Chicken Creole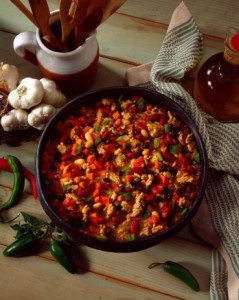 This quick Louisiana dish contains no added fat and very little salt.
Ingredients
12 oz boneless, skinless chicken breast, cut into thin strips
1 C canned whole peeled tomatoes, chopped
1 C chili sauce
1½ C green bell pepper, rinsed and chopped
1½ C celery, rinsed and chopped
¼ C onion, chopped
1 Tbsp garlic, minced (about 2 – 3 cloves)
1 Tbsp fresh basil, rinsed, dried, and chopped (or 1 tsp dried)
1 Tbsp fresh parsley, rinsed, dried, and chopped (or 1 tsp dried)
¼ tsp crushed red pepper
¼ tsp salt
1 Tbsp oil or butter
Instructions
Heat the oil or butter over medium-high.
Cook chicken in hot sauté pan, stirring for 3 – 5 minutes. Reduce heat.
Add tomatoes with juice, chili sauce, green pepper, celery, onion, garlic, basil, parsley, crushed red pepper and salt. Bring to a boil over high heat and then reduce heat to simmer.
Simmer, covered for 10 minutes.
Nutrition Information
Serving size:
1.5 c
Calories:
274
Fat:
5 g
Saturated fat:
1 g
Carbohydrates:
30 g
Sodium:
383 g
Fiber:
4 g
Protein:
30 g
Cholesterol:
73 g
Tip: Delicious served over rice.