Caramelized Tofu and Broccoli Stir-Fry
For more healthy recipes by Aviva Goldfarb, visit her site at The Six O'Clock Scramble.

Caramelized Tofu and Broccoli Stir-Fry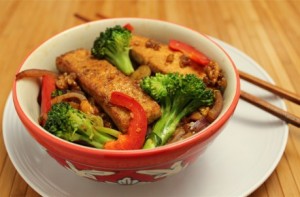 My friend and food writer, April Fulton, shared her wonderful healthy vegetarian recipe for this savory and healthy meatless dish. If you don't like tofu, use chicken or beef instead. Serve it with white or brown rice and orange slices.
Ingredients
15 oz. extra-firm tofu, or use boneless chicken or beef
2 Tbsp. coconut or peanut oil
1 tsp. minced garlic, (1 – 2 cloves)
½ cup pecans, coarsely chopped
2 Tbsp. brown sugar
3 Tbsp. reduced-sodium soy sauce (use wheat/gluten-free if needed)
¼ tsp. crushed red pepper flakes (optional)
1 head broccoli, cut into florets (about 3 cups)
½ red bell pepper, cut into thin 1-inch long strips
½ red onion, thinly sliced
Instructions
Drain the tofu and wrap it in a clean dishcloth to draw out the extra water.
Cut the tofu into 3 crosswise slices, and cut those slices into 3 or 4 long strips.
In a large skillet, heat the oil over medium-high heat.
Add the tofu strips and cook them without stirring for about 3 minutes until they have browned on the bottom.
Flip the tofu (tongs work well for this) and add the garlic and pecans, stirring them for a minute until the garlic becomes fragrant.
Add the sugar, 1½ Tbsp. soy sauce, and the red pepper flakes (optional) and stir until the sugar blends with the rest of the ingredients.
Remove the tofu and nuts to a plate, allowing some of the sauce to remain in the pan.
Add the broccoli, red pepper strips, onions, and the remaining soy sauce and cook for 3 – 4 minutes until they are tender. (Meanwhile, slice the oranges, if you are serving them.)
Add the tofu and other ingredients back into the skillet to heat them through, and serve immediately.
Notes
Do Ahead or Delegate:
Drain, wrap and slice the tofu or slice the chicken or beef into strips if you are using it and refrigerate, peel the garlic, chop the pecans, cut the broccoli, slice the bell pepper and the onion.
Scramble Flavor Booster:
Serve with extra soy sauce and/or Asian chili garlic sauce.
This recipe is republished here with permission from the author. The original recipe may be found
here
.
Tip:
Beware of the sodium content (and of course calories and fat) in restaurant foods! According to a Cambridge University study, restaurant-industry supported logos used to point out healthier choices on menus use guidelines that are more generous than recommendations by the USDA. The biggest discrepancy in this area is sodium. All the more reason to plan ahead and eat healthier meals at home.
Nutrition Information
Calories:
295
Fat:
19g
Saturated fat:
5g
Carbohydrates:
19g
Sugar:
8g
Sodium:
276mg
Fiber:
6g
Protein:
15g
Cholesterol:
0mg