French Cassoulet with White Beans and Sausage
For more healthy recipes by Aviva Goldfarb, visit her site at The Six O'Clock Scramble.

French Cassoulet with White Beans and Sausage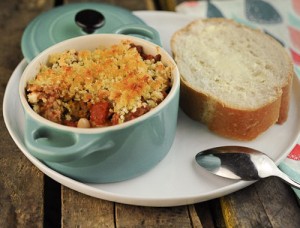 Cassoulet is a French bean stew that is usually made with meat, tomatoes and spices. This version is amazing because it's so quick, yet tastes like it's been stewing for hours! This recipe could also be a great vegetarian main dish for Thanksgiving or any family meal.
Ingredients
3 Tbsp. extra virgin olive oil
14 oz. Gimme Lean (meatless) sausage or 1 lb. uncooked pork or turkey sausage (use wheat/gluten-free if needed)
1 yellow onion, diced
1 tsp. minced garlic, (about 2 cloves)
½ tsp. dried oregano
½ tsp. dried basil
¼ cup bread crumbs or panko (Japanese bread crumbs)
15 oz. diced tomatoes, with their liquid
15 – 19 oz. canned cannellini or white kidney beans, drained and rinsed
Instructions
Preheat the oven to 400 degrees. In a large Dutch oven or oven-safe deep skillet, heat 2 Tbsp. oil over medium heat.
Add the sausage (if you are using meat sausage, remove it from its casing), breaking it up with the edge of a spatula, and the onions, garlic, oregano and basil.
Cook the sausage and onions for 6-8 minutes, until the sausage is browned, stirring frequently.
In a small bowl, combine the bread crumbs and 1 Tbsp. oil with your fingers or a fork and set it aside.
Add the tomatoes and beans to the sausage mixture, and bring it to a low boil.
Simmer it for 3 – 5 minutes, then top it evenly with the bread crumb mixture and transfer it to the oven.
Bake the stew for 10 minutes, uncovered. (Meanwhile, make the salad, if you are serving it.)
Remove it from the oven and serve it immediately, or refrigerate it for up to 3 days.
Notes
Slow Cooker Directions: Brown the sausage, onions, garlic, oregano and basil in the oil (you won't need the oil if using meat sausage) and transfer to a slow cooker. Add the tomatoes and beans. Cook it on high for 6 hours or on low for 10 hours. Omit the bread crumbs.


Do Ahead or Delegate: Dice the onion, peel the garlic, make the bread crumb/olive oil mixture, or fully prepare and refrigerate the dish.


Scramble Flavor Booster: Add ¼ tsp. crushed red pepper flakes to the pan with the sausage.


Tip: Watching your waistline and your wallet? Legumes and peas are a great option. Research done at Penn State University determined that people who consumed a half-cup or more of these affordable little gems on any given day, ate more fiber and protein and less fat than those who didn't eat foods from this category.


Serve with Green Salad with Avocado, Carrots and Mozzarella Cheese
Toss the lettuce with the avocado, carrots, cheese and dressing, to taste.
Nutrition Information
Serving size:
2 each
Calories:
300
Fat:
14g
Saturated fat:
5.5g
Trans fat:
3g
Carbohydrates:
27g
Sugar:
3g
Sodium:
740mg
Fiber:
5g
Protein:
18g
Cholesterol:
40mg