Stir-Fried Fish with Greens
For more healthy recipes by Aviva Goldfarb, visit her site at The Six O'Clock Scramble.

Stir-Fried Fish with Greens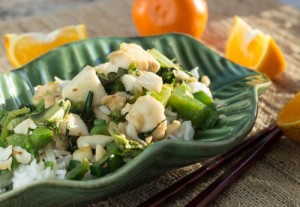 Here is a fantastic healthy Chinese recipe. I know it's a little odd to think of fish in a stir-fry but with a very mild white fish, it can easily be interchangeable with chicken breast. I'm not even sure my son Solomon realized it wasn't chicken. Scramble recipe tester Bobbi Woods said, "My whole family loved it. I used cod for the white fish, probably because it is a bit thicker. It still broke up quite a bit but really had a great flavor. The entire dish was eaten and there were no leftovers!!" Serve it with brown or white rice and seedless grapes. Prep + Cook Time: 20 minutes Makes 4 servings, about 1½ cups
Ingredients
1 Tbsp. canola or vegetable oil
1 bell pepper, any color, seeded and chopped
1 jalapeno pepper, seeded and finely diced (optional)
6 scallions, light and dark green parts only, sliced (about 1 cup)
1 head bok choy, or other Chinese greens, leaves and stems, chopped (about 2 cups)
1 lb. cod, sole, flounder or other white fish fillets, chopped into 1 – 1½-inch pieces, or use chicken breast or extra-firm tofu
¼ cup stir-fry or teriyaki sauce (use wheat/gluten-free if needed), store-bought or homemade (see below), plus additional for serving
Instructions
Start the rice first, if you are serving it.
In a large nonstick skillet or wok, heat the oil over medium to medium-high heat.
When it is hot, add both types of peppers and stir-fry them for 2 minutes, then add the scallions and greens, and stir-fry for 2 more minutes.
Add the fish (or chicken or tofu), and cook it for about 5 more minutes until it is just cooked through (fish should flake easily, chicken should no longer be pink and tofu should start to turn golden).
Add the sauce and cook to heat it through for 1 more minute, and serve it immediately with additional stir-fry or soy sauce, if desired.
Notes
Do Ahead or Delegate:
Seed and chop the bell pepper, seed and finely dice the jalapeño pepper, if using (wear gloves or wash hands thoroughly after seeding it), slice the scallions, chop the greens, chop and refrigerate the fish (or chicken or tofu), prepare the sauce if making homemade.
Scramble Flavor Booster:
Use the optional jalapeño pepper and/or if you prepare your own stir-fry sauce, let it simmer for a few extra minutes as suggested.
Tip:
To make your own stir-fry sauce, combine 1½ Tbsp. soy sauce, 1½ Tbsp. rice vinegar, 1½ Tbsp. rice wine, 1½ tsp. brown sugar and ¼ tsp. each of ground ginger and garlic powder. To deepen the flavor, simmer it for about 3 minutes.
Serve with Brown or White Rice.
This recipe is republished here with permission from the author. The original recipe may be found
here
.
Nutrition Information
Calories:
260
Fat:
11g
Saturated fat:
1g
Carbohydrates:
17g
Sugar:
11g
Sodium:
897mg
Fiber:
4g
Protein:
26g
Cholesterol:
49mg