For more healthy recipes by Aviva Goldfarb, visit her site at The Six O'Clock Scramble.
If you'd like to see Aviva Goldfarb make this easy and delicious recipe and (hear a little about her philosophy about meal planning and making family dinners a reality), check out her video, entitled "Healthy Chicken Parmesan".

Healthy Chicken Parmesan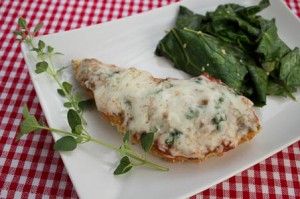 Crispy Baked Chicken Parmesan with Roasted Brussels Sprouts–the whole meal clocks in at just 300 calories and can be prepared in 30 minutes or less. Chicken Parmesan in major restaurant chains can easily have 3 times the calories and loads of unhealthy saturated fat.
Ingredients
¾ cup flour
¼ tsp. salt
1 – 2 eggs
¾ cup bread crumbs or panko
1 ½ lbs. chicken cutlets (or cut chicken breasts in half and pound them to an even thickness)
⅓ cup shredded part-skim mozzarella cheese
¼ cup grated Parmesan cheese
½ – ¾ cup red pasta sauce
2 Tbsp. pesto sauce (optional)
2 Tbsp. fresh basil and sage leaves, minced
Instructions
Preheat the oven to 425 degrees. Spray a baking sheet with nonstick cooking spray.
Combine the flour and salt in a shallow dish, and put the egg(s) and the bread crumbs or panko in 2 separate shallow dishes.
Coat each chicken cutlet lightly with the flour, then the egg, then the bread crumbs, and lay them on the baking sheet.
Bake them for 6 – 8 minutes.
Meanwhile, in a small bowl combine the cheeses. (Start the grits and the kale now, if you are serving them.)
Remove the chicken from the oven, flip each cutlet over, and top each one with 1 Tbsp. of the sauce, spreading it to the edges, and a sprinkling of the fresh herbs and the cheese (make sure to use up all of the herbs and cheese).
Return the chicken to the oven for 6 – 8 more minutes until it is cooked through and the cheese is melted.
Serve it immediately.
Notes
Do Ahead or Delegate:
Put the ingredients for breading the chicken in separate bowls (and refrigerate the eggs), cut and pound chicken breasts and grate Parmesan cheese, if needed.
Scramble Flavor Booster:
Use aged Parmesan such as Parmigiano-Reggiano and add a little black or red pepper to the bread crumb mixture. Use a spoonful of pesto in addition to or instead of the herbs.
Tip:
You can also serve the chicken over angel hair noodles or on whole wheat buns topped with extra marinara sauce.
Side Dish suggestion:
Trim the stems of 1 lb. of Brussels sprouts a little and peel off any tough outer leaves. If the sprouts are large, cut them in half from top to bottom. Toss the sprouts with 1 – 2 Tbsp. olive oil and ¼ – ½ tsp. kosher salt and roast them in the oven for 25 – 30 minutes at 400 degrees, tossing them occasionally, until they are browned and tender. [Optional twist: Toss roasted sprouts with 1 Tbsp. dried cranberries and 1 tsp. grated Parmesan cheese.]
This recipe is republished here with permission from the author. The original recipe may be found
here
.
Nutrition Information
Calories:
310
Fat:
8g
Saturated fat:
2g
Carbohydrates:
26g
Sugar:
4g
Sodium:
560mg
Fiber:
4g
Protein:
36g
Cholesterol:
110mg