Parmesan Stuffed Mushrooms
Parmesan Stuffed Mushrooms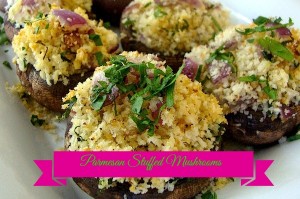 These stuffed mushrooms are a filling, high-protein snack that can be customized with any of your favorite cheeses and seasonings. They also make a great main course for Meatless Mondays! Omit bread crumbs for a gluten-free version.
Ingredients
2 large stuffing mushrooms (fresh)
1 Tbsp butter
2 Tbsp olive oil
½ cup green onions, finely chopped
1 cup plain bread crumbs
2 Tbsp finely chopped garlic
1 cup grated Parmesan cheese
2 Tbsp Italian herb blend
½ Tbsp fresh chopped parsley
¼ tsp ground black pepper
1 tsp salt
Instructions
Clean the mushrooms with a paper towel or vegetable brush and remove stems. Chop the stems finely.
Preheat the oven to 350°F. Grease a baking dish with butter or oil.
Take a skillet and Put a on a medium flame; add the butter and melt with oil.
Add chopped stems of mushrooms in skillet. Stir them constantly for 4 minutes or so.
Add finely chopped green onions and garlic and stir for another minute.
Add all these ingredients one by one, stirring in between: cheese, Italian herbs, bread crumbs, salt, parsley, and pepper.
Arrange this stuffing into the mushroom caps and put it on the baking sheet. Bake for 25 minutes.
Serve hot with a sauce of your choice.
Nutrition Information
Calories:
118
Fat:
7.8 g
Saturated fat:
2.0 g
Carbohydrates:
7.6 g
Sugar:
1.0 g
Sodium:
617.9 mg
Fiber:
0.8 g
Protein:
4.8 g
Cholesterol:
8 mg