Almond Raspberry and Buttermilk Pancakes
Low Cholesterol Recipe. To learn more about natural ways to lower your cholesterol, click here.

Almond Raspberry and Buttermilk Pancakes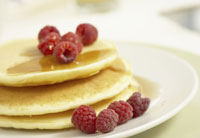 Ingredients
2 cups almond flour
2 tsp. baking powder
1 tsp. baking soda
½ tsp. kosher salt
3 Tbsp. sugar substitute
2 medium eggs, lightly beaten
2 cups buttermilk
1 Tbsp. olive oil
2 cup fresh raspberries
cooking oil spray
sugar-free pancake syrup, to serve
Instructions
Preheat griddle at 180 C or 375 F.
In a large bowl, mix together the flour, baking powder, baking soda, kosher salt, and sugar substitute.
Add in the eggs, buttermilk, and olive oil in the mixture. Stir until combined well.
Lightly grease the griddle with cooking oil spray.
Pour ½ cup batter onto the griddle at least 2 inches apart from each other. Top with some raspberries. Flip once bubbles formed. Cook until golden on both sides. Repeat procedure in remaining batter.
Serve in individual plates with raspberries and sugar-free pancake syrup.
Notes
Diabetic Exchange
½ Fruit, 1 Fat, 0 Vegetable
1 Starch, ½ Low Fat Milk,
½ Medium Fat Meat, 0 Carb
Nutrition Information
Calories:
199
Fat:
13.0g
Saturated fat:
2.4g
Trans fat:
0.0g
Carbohydrates:
12.9g
Sugar:
7.9g
Sodium:
424mg
Fiber:
3.6g
Protein:
9.7g
Cholesterol:
87mg