Spring Vegetable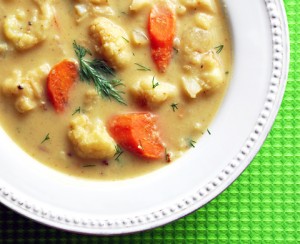 Author:
Revised by Staci Gulbin, MS, Med, RD, LDN
Ingredients
2 Tbsp unsalted butter 1 medium red onion
¼ green pepper (~ 2oz), sliced
½ cup potato, cubed
½ cup carrot, cubed
½ cup cauliflower, cubed
1 Tbsp sliced garlic
2 Tbsp sliced cilantro
2 Tbsp all-purpose flour
1 tsp salt
1 tsp black pepper
1½ cup chicken stock
Instructions
Place a pan over medium heat.
Add butter to pan.
Once butter starts to melt, add potato, carrot, cauliflower, green pepper and onion to pan and cook for 10 minutes, stirring vegetables frequently..
Add flour and hot chicken stock to pan.
Stir the vegetables continuously while adding in salt and black pepper.
Cook for vegetables for another 5 minutes, then add cilantro and remove pan from heat.
Serve and enjoy.
Nutrition Information
Serving size:
¼ recipe
Calories:
151
Fat:
9.6g
Sugar:
0
Sodium:
889mg
Fiber:
1.3g
Protein:
2g
Cholesterol:
15mg