Curried Coconut Chicken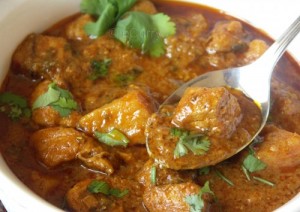 Ingredients
12 oz boneless chicken breasts, cubed
1 Tbsp sunflower oil
2 Tbsp curry powder
½ onion, thinly sliced
2 garlic cloves, crushed
4 oz coconut milk
2 small tomatoes, chopped
½ cup tomato puree
Salt and pepper to taste
Instructions
Season chicken breasts with salt and pepper and set aside for 15 minutes.
Place oil in a large saucepan over medium high heat.
Cook curry powder for 1 minute.
Stir onion and garlic into curry powder and cook for 1 more minute.
Add marinated chicken to pan and toss to coat with the curry paste.
Reduce heat to medium low and let chicken cook for 7 to10 minutes until juices run clear.
Add tomatoes, coconut milk, tomato puree to chicken and stir to combine.
Cover and let cook on low for 30 to 40 minutes, stirring occasionally.
Nutrition Information
Serving size:
¼ recipe
Calories:
296
Fat:
17.2 g
Carbohydrates:
9.7 g
Sodium:
90 mg
Fiber:
3.1 g
Cholesterol:
76 mg