Oven Baked Risotto from Eating Well Through Cancer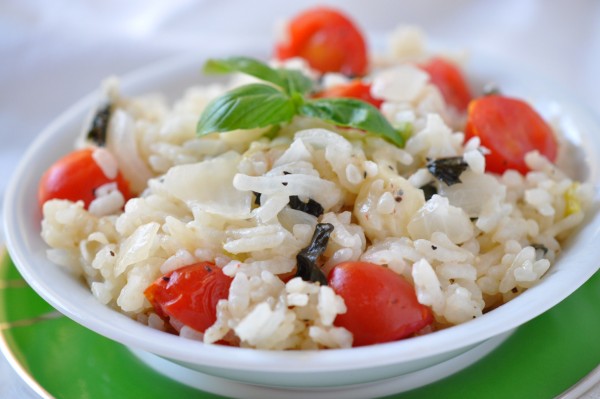 No time consuming stirring to whip up this scrumptious risotto recipe as it bakes in the oven.This diabetic, gluten-free version is easy and absolutely fabulous!  Arborio rice is the type of rice used to make risotto. From Day of Chemo chapter
Makes 10 (1/2-cup) side servings
Prep Time: 5 minutes
Cook Time: 35 minutes
2 tablespoons butter, melted
2 1/2 cups low-sodium fat-free chicken broth
1 cup Arborio rice
1 cup chopped onion
Salt and pepper to taste
Preheat oven 400 F°
In 13x9x2-inch baking dish, mix together butter, broth, rice, onion and season to taste. Bake, covered, 35 minutes. Remove from oven and fluff rice with fork.
Nutritional info per serving:Calories 93, Calories from Fat 24%, Fat 2g, Saturated Fat 1g, Cholesterol 6mg, Sodium 56mg, Carbohydrates 16g, Dietary Fiber 1g, Total Sugars 1g, Protein 2g, Dietary Exchanges:  1 starch
Terrific Tip:  If feeling up to it, a heartier delicious option, after risotto is cooked add fresh mozzarella, tomatoes, fresh basil and even chicken. Turn into a main dish.
Nutrition Nugget: Arborio rice is often used to make risotto as it undergoes less milling, keeping more of its starch content, making it creamy in texture.
---
You can find many such great recipes in Holly Clegg's book Eating Well Through Cancer: Easy Recipes & Tips to Guide you Through Treatment and Cancer Prevention 3rd Edition