Easy Spiced Quinoa Pilaf with Shrimp
Easy Spiced Quinoa Pilaf with Shrimp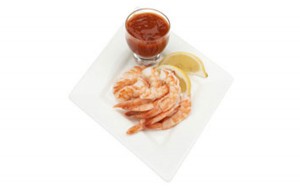 Recipe type:
entrée, side dish
Ingredients
1 cup dry quinoa
1 ¾ cup chicken broth or vegetable broth
1 Tbsp. olive oil
3 cloves garlic
1 medium red onion
12 oz. fresh shrimps, peeled and deveined
½ cup carrot, chopped
½ tsp. cumin, ground
½ tsp. hot paprika
¼ cup fresh coriander
¼ tsp. kosher salt
¼ freshly ground black pepper
Instructions
In a non-stick saucepan, cook quinoa until toasted and aromatic over medium heat. Stirring frequently. Add the broth and bring to a boil. Reduce heat to low and simmer for 10-15 minutes or until cooked through. Let stand for 5 minutes. Flake with a fork until fluffy. Set aside
Heat oil in a skillet. Stir-fry garlic and onion until fragrant.
Add the shrimps, carrot, cumin, and paprika. Cook, stirring for 3-4 minutes.
Add the quinoa and coriander. Stir to combine well. Cook further 5-7 minutes. Season with salt and pepper, to taste. Remove from heat.
Transfer in a serving dish.
Serve and enjoy.
Notes
Diabetic Exchange
0 Fruit, ½ Fat, 0 Vegetable
1 Starch, 3 Lean Meat,
0 Carb
Nutrition Information
Calories:
315
Fat:
8g
Saturated fat:
1.4g
Trans fat:
0g
Carbohydrates:
32.2g
Sodium:
488mg
Fiber:
488mg
Cholesterol:
179mg