This is my number one favorite salmon recipe; highly recommended and possibly the best salmon ever! The glaze is simple, can be prepared in a matter of minutes, and will disappear from your plate just as quickly.

Glazed Salmon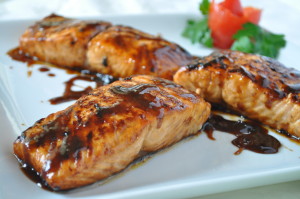 Ingredients
¼ cup honey
2 tablespoons low-sodium soy sauce
2 tablespoons lime juice
1 tablespoon Dijon mustard
4 (6-ounce) salmon fillets
Instructions
In small bowl, whisk together honey, soy sauce, lime juice, and mustard. Marinate salmon in sauce in refrigerator several hours, or time permitted (Do not discard marinade).
In nonstick skillet coated with nonstick cooking spray, cook salmon on each side, 3-5 minutes, until golden brown, crispy, and just cooked through. Transfer salmon to platter.
Add remaining honey glaze to skillet, and simmer, stirring, until mixture comes to boil. Return salmon to pan, heat thoroughly, and serve immediately.
Nutrition Information
Serving size:
297
Fat:
8g
Saturated fat:
1g
Carbohydrates:
20g
Sugar:
19g
Sodium:
403g
Fiber:
0g
Protein:
36g
Cholesterol:
80mg
Health tip: By using low-sodium soy sauce, you can easily make this healthier for people with high levels of cholesterol.
Terrific Tip:  Whenever you need to marinate anything, try using a plastic bag to avoid mess.
Recipe from Holly Clegg's trim&TERRIFIC KITCHEN 101: Secrets to Cooking Confidence cookbook.