Chicken, Barley, and Bow-Tie Soup​
Chicken, Barley, and Bow-Tie Soup​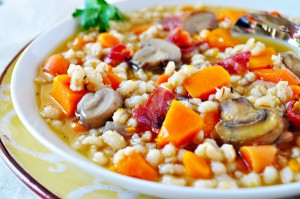 When you are going through chemotherapy, it may be difficult to find the energy and appetite to eat protein-rich nutritious meals. Chicken, Barley, and Bow-tie Soup from Holly Clegg's Trim and Terrific Eating Well Through Cancer cookbook is as soothing as it is delicious. Diabetic-friendly and a good source of protein, this recipe makes a large pot so you can make once and eat it throughout the week helping to ease your workload. You can also freeze extra for another time, and take advantage of the time-saver and use rotisserie chicken to save a step.

Chicken, Barley, and Bow-Tie Soup​ A hearty version of a favorite remedy with barley and pasta is one of my favorites.

For more recipes like this, lLook for Holly's Eating Well Through Cancer cookbook, which is now also available in a Spanish edition, Alimentándose biendurante el cáncer.
Ingredients
1 cup chopped celery
1 cup chopped onion
2 cups baby carrots
8 cups low-sodium fat-free chicken broth
½ cup pearl barley
2 cups bow tie pasta (uncooked)
½ teaspoon dried basil leaves
2 cups skinless coarsely chopped Rotisserie chicken
Salt and pepper to taste
Instructions
In large nonstick pot coated with nonstick cooking spray, sauté celery, onion, and carrots, 5-7 minutes. Add broth and barley. Bring to boil, reduce heat, cover, and cook 20-30 minutes or until barley is done.
Meanwhile, cook pasta according to package directions; drain and set aside. When soup is done, add basil, chicken and season to taste. Heat 5 minutes.
Terrific Tip: If experiencing taste changes, add extra seasonings as needed to perk up your taste buds. Serve the soup in a mug and if temperature bothers you, serve only warm or room temperature.
Notes
Dietary Exchanges: 2 starch, 1½ lean meat
Nutrition Information
Serving size:
1 cup
Calories:
186kcal
Fat:
2g
Saturated fat:
1g
Carbohydrates:
28g
Sugar:
3g
Sodium:
137mg
Fiber:
3g
Protein:
14g
Cholesterol:
28mg