If you love pastries, you will surely love this easy-to-make, delicious custard tart pastry.

Custard mini-Tartletts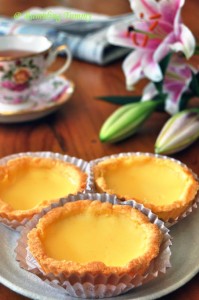 Ingredients
8 teaspoons water
4 teaspoons fresh milk
2 tablespoons and 2 teaspoons sugar
1 large egg
1 teaspoon condensed milk
6 prepared tarts
Instructions
Preheat oven to 140 degrees.
Place water in a saucepan and bring to a boil over medium-high heat.
Add sugar to water.
Boil water until sugar dissolves.
Set aside sugar water to cool.
In a small bowl add egg, fresh milk and condensed milk.
Whisk all ingredients and mix well (be careful not to over mix).
Add egg mixture to cooled sugar syrup and stir well.
Filter the entire mixture with a fine sieve two times to remove egg clusters.
Carefully fill the prepared tart shells with egg mixture to the rim.
Bake tart in oven for about 25 minutes or until egg custard gains a pudding-like texture.
Nutrition Information
Serving size:
1 egg tart
Calories:
225
Fat:
10.9 g
Carbohydrates:
27.6 g
Fiber:
0.8 g
Protein:
4.8 g