Vegetable Vindalu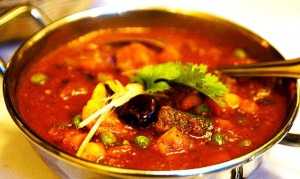 Ingredients
500g potato, cut into small piece
250g green peas
200g carrot, diced
200g onion, sliced
1 tsp ginger, paste
1 tsp garlic, paste
1 tsp chili powder
1 tsp turmeric powder
1 tsp cumin powder
1 tsp salt
2 tbsp oil
¼ cup vinegar
½ tsp black pepper, powder
¼ tsp cinnamon powder
¼ tsp cardamom powder
Instructions
Mix onion, ginger paste, chili powder, turmeric powder, cumin powder, cinnamon powder, cardamom powder, salt and vinegar with potato and carrot. Keep the mixture for 2 hours.
Heat oil in a pan on medium heat and add the vegetables. Cover a lid and cover until the vegetables are tender. After 10 minutes add green peas and simmer the heat.
When the oil comes out above the vegetables turn off the burner.
Vegetable vindalu is ready to serve.
Nutrition Information
Calories:
260
Fat:
7.6g
Saturated fat:
1.0g
Carbohydrates:
42.1g
Sugar:
9.1g
Sodium:
635mg
Fiber:
8.9g
Protein:
7.2g
Cholesterol:
0mg