Beef Masala Curry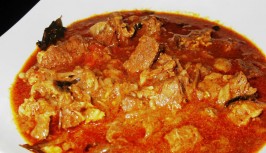 Ingredients
250 g (1/2 lb) lean beef, cut into small pieces
25 g (one small) onion, sliced
10 g (2-3 cloves) garlic, sliced
100 g (3 ½ oz) tomatoes, sliced
¼ tsp red chili powder
½ tsp coriander powder
2 g (2-3) bay leaves
5 g (approx. 1 tsp) dry red chili
½ tsp cumin powder
1 tsp salt
1 tbsp olive oil
Egg noodles
Instructions
Rinse cut beef and pat dry.
In a large non-reactive bowl, mix other ingredients. Add beef and coat pieces with spice mix.
Pre-heat a medium size pan. Add beef and stir. Cover with a lid and cook over medium heat until the beef is tender.
Serve with cooked egg noodles.
Nutrition Information
Serving size:
4
Calories:
155
Fat:
7.8g
Saturated fat:
2.4g
Carbohydrates:
3.8g
Sugar:
1.5g
Sodium:
627mg
Fiber:
1.1g
Protein:
17.1 g
Cholesterol:
48 mg