Ginger Lemon Tea with Cinnamon
Ginger Lemon Tea with Cinnamon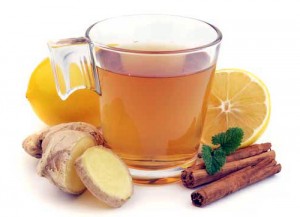 Ingredients
1 oz. fresh ginger, thinly sliced
1 cinnamon stick (bark)
8 cups water
1 medium lemon
¼ cup honey
Instructions
Juice ½ of the lemon using a citrus juicer. Reserve juice. Discard the seeds and peel.
Slice the remaining half lemon horizontally. Set aside.
Place ginger, cinnamon stick, and water in a large stockpot. Bring to a boil over high heat. Reduce heat and simmer for 15 minutes. Remove from heat. Discard the ginger and cinnamon.
Stir in the lemon juice and honey into the ginger tea.
Pour individual cups. Garnish with a slice of lemon.
Serve and enjoy.
Notes
Diabetic Exchange
¼ Fruit, 1 ½ Carb
Nutrition Information
Serving size:
teacup
Calories:
48
Fat:
0.2g
Saturated fat:
0g
Unsaturated fat:
0g
Trans fat:
0g
Carbohydrates:
12.4g
Sugar:
9g
Sodium:
9mg
Fiber:
1g
Protein:
0.5g
Cholesterol:
0mg