For more healthy recipes by Aviva Goldfarb, visit her site at The Six O'Clock Scramble.

Crispy Quinoa Cakes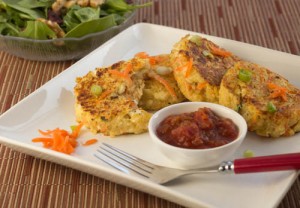 I've been intrigued by quinoa cakes ever since I first devoured them at
Le Pain Quotidian
, a Belgian-based café and bakery that has a great selection of innovative and healthy food. This version, also inspired by a recipe from
eatingwelllivingthin.wordpress.com
, is mild enough for picky eaters but interesting enough for adventurous eaters. If time allows, cook the quinoa up to a day in advance and refrigerate it, because it will be easier to work with when cool. Serve them with a green salad with avocado, walnuts and Parmesan cheese.
Ingredients
1 cup quinoa
1 carrot, finely grated, about ¾ cup
2 scallions, thinly sliced, green and white parts
4 eggs, beaten
½ cup low fat cottage cheese
¾ cup crumbled feta cheese, or use shredded Cheddar cheese
3 Tbsp. whole wheat flour, or use potato flour or potato starch for a gluten-free option
¼ tsp. black pepper
½ tsp. ground cumin
½ tsp. salt
5 – 6 Tbsp. extra virgin olive oil
Tomato sauce and/or ketchup, for serving, or use applesauce, salsa, or whatever sauce you prefer
Instructions
Cook the quinoa according to the package directions (1 part quinoa to 2 parts water) to yield about 2½ cups (no need to measure the cooked quinoa).
Remove the lid and remove the pan from the heat to cool. (This can be done up to 24 hours in advance.)
In a large bowl, combine the quinoa with the remaining ingredients except the oil and the serving condiments, and mix thoroughly.
Heat the oven to 300 degrees, line a baking sheet with a silicone mat or coat it with nonstick cooking spray, and heat 2 Tbsp. of the oil in a large nonstick skillet (use 2 if you have them) over medium heat.
When it is hot, pack some of the mixture into a ¼ cup measuring cup and drop it into the skillet, flattening it with the bottom of the cup so it's about ¼ – ½-inch thick. Repeat with enough cakes to fill the pan without crowding it.
Cook without moving them for about 4 minutes per side until they are golden brown and crispy on the outside. (Meanwhile, prepare the salad, if you are serving it.)
Transfer the cooked patties to a baking sheet to keep them warm, and repeat with the remaining batter, adding 1 Tbsp. oil to the skillet as needed.
The second and third batches will likely cook more quickly, but if they are browning too quickly, reduce the heat.
Serve them immediately with tomato sauce, ketchup, or condiments of your choice, or refrigerate them for up to 3 days, or freeze them for up to 3 months.
Notes
Do Ahead or Delegate:
Cook the quinoa and refrigerate, grate the carrot, slice the scallions, beat and refrigerate the eggs, or fully prepare and refrigerate the batter.
Scramble Flavor Booster:
Sprinkle the cakes lightly with cayenne pepper as you add them to the skillet.
Tip:
If the cakes stick to your nonstick skillet, it may be time to replace your pan. Unlike stainless, cast iron and ceramic skillets, nonstick skillets usually need to be replaced every few years. Make sure not to stack anything on top of them to protect their nonstick surface, or if you do, protect their surface with a cloth napkin or dishtowel.
This recipe is republished here with permission from the author. The original recipe may be found
here
.
Nutrition Information
Calories:
249g
Fat:
14g
Saturated fat:
4g
Carbohydrates:
20g
Sugar:
1g
Sodium:
393g
Fiber:
3g
Protein:
12g
Cholesterol:
104mg
link