Quinoa and fruit go brilliantly together in this fantastic, healthy fruit salad.  Simply add your favourite fruit, and consider throwing in some nuts too.
Fruity Quinoa Salad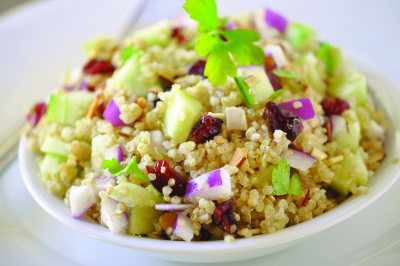 Ingredients
½ cup quinoa, rinsed and drained well
1 cup water
⅔ cup diced peeled cucumber
½ cup chopped red onion
⅔ cup fresh blueberries
⅔ cup cubed mango
1 (11-ounce) can mandarin oranges, drained and reserve
3 tablespoons juice
1 tablespoon canola oil
1 tablespoon lemon juice
Dash cayenne
Salt and pepper to taste
Instructions
In medium pot, combine quinoa and water. Bring to boil, cover, and reduce heat. Simmer 10-15 minutes. Cool completely.
In large bowl, combine quinoa, cucumber, onion, blueberries, mango and oranges.
In small bowl, whisk oil, reserved 3 tablespoons orange juice, lemon juice, cayenne and season to taste. Toss with salad.
Nutrition Information
Serving size:
1 cup
Calories:
181
Fat:
5g
Saturated fat:
0g
Sugar:
15g
Sodium:
8mg
Fiber:
4g
Protein:
4g
Cholesterol:
0mg
Nutritional Nugget: Quinoa is a grain-like seed that is high in
protein
, iron and fiber, as well as low in fat – especially important for vegetarians and those on a
low-fat diet
.
Recipe from Holly Clegg's trim&TERRIFIC Eating Well to Fight Arthritis cookbook.