Chicken Tikka Drum Sticks
Chicken Tikka Drum Sticks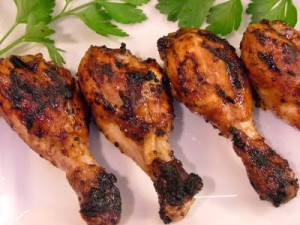 Ingredients
1 pound chicken drum sticks
4 tablespoons skimmed yogurt
1 teaspoons raw papaya paste
½ teaspoons ginger paste
1 teaspoon garlic paste
1 teaspoon minced green chili or paprika
½ teaspoon salt
1½ teaspoon ground white cumin
Pinch of yellow food coloring
2 tablespoons sunflower oil
Skewers, soaked in water
2 tablespoons vinegar
Instructions
Add all ingredients to bowl, except chicken.
Mix until paste forms.
Add chicken drum sticks to mixture to coat chicken with paste.
Set aside chicken to marinate for at least 2 hours.
Preheat a grill or grilling pan to medium-high heat.
Thread chicken into skewers and grill for 8-10 minutes, turning twice to golden brown evenly.
Before serving, drizzle with lemon juice and serve with raita.
Nutrition Information
Serving size:
¼ recipe
Calories:
295
Fat:
15.6 g
Saturated fat:
3.0 g
Trans fat:
Fat 0 g
Carbohydrates:
2.6 g
Sugar:
0 g
Sodium:
389 mg
Fiber:
0 g
Protein:
34.2 g
Cholesterol:
101 mg