Grilled Scallops with Grapefruit-Thyme Sauce
Grilled Scallops with Grapefruit-Thyme Sauce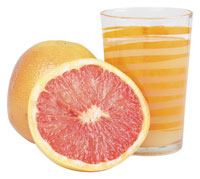 Grilled Scallops with Grapefruit-Thyme Sauce Recipe Type : Heart Healthy Author: Celeste Jarabese Serves: 4 Servings
Ingredients
1 pound dry scallops
¼ tsp. kosher salt
¼ tsp. freshly ground black pepper
1 medium pink grapefruit
2 tsp. unsalted butter
¼ cup sweet wine
1 Tbsp. fresh thyme, chopped
cooking oil spray
Instructions
Pre-heat grill to high. Grease the grill rack with cooking oil spray.
Season the scallops with salt and pepper. Divide the scallops into 8 skewers.
Grill the scallops until cooked through and golden on both sides (about 3-4 minutes on each side). Transfer in a plate and cover with foil to keep warm.
Cut the grapefruit in half. Using a citrus juicer, squeeze half of the grapefruit. Discard the seeds and reserve the juice. Slice the remaining grapefruit into segments. Set aside.
Heat butter in a saucepan over medium heat. Stir in wine and grapefruit juice. Allow to boil until mixture is reduced by half. Add thyme and grapefruit segments. Stir. Remove from heat.
Pour the sauce over the grilled scallops and serve immediately.
Notes
Diabetic Exchange
¼ Fruit, ½ Fat, 0 Vegetable
0 Starch, 3 Lean Meat, 0 Carb
3.2.2925
Nutrition Information
Calories:
152
Fat:
2.9g
Saturated fat:
1.3g
Trans fat:
0g
Carbohydrates:
8.8g
Sugar:
4.5g
Sodium:
345mg
Fiber:
1g
Protein:
19.5g
Cholesterol:
42mg