Peanut Butter and Apple Pancakes (Made with diabetes-friendly ingredients from Costco)
Popular food blogger Melinda Strauss of kitchen-tested.com has had Type 1 Diabetes since she was 17. Her latest quest was to make tasty, nutritious pancakes. She found all the healthy, low-glycemic, diabetic-friendly ingredients at Costco. We are grateful to her for creating this recipe especially for us to share with our readers.
Peanut Butter and Apple Pancakes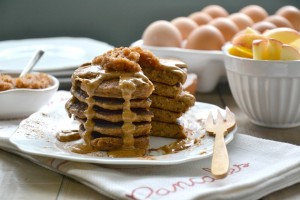 Ingredients
¾ cup all natural peanut butter
½ cup plain Greek yogurt
½ cup apple compote (recipe below)
¼ cup Ready to Eat Organic Flax Hemp Blend (can also use ground flax seeds)
1 Tbsp honey
1 tsp vanilla extract
1 tsp baking powder
1 tsp cinnamon
¼ tsp salt
Apple Compote:
2 large apples, chopped
1 cup water
1 Tbsp honey
2 tsp ground cinnamon
Instructions
To make the compote, combine the apples, water, honey and cinnamon in a small pot, bring the mixture to a boil then lower to a simmer and cook for 30 minutes.
Stir the mixture occasionally then mash the apples in a food processor for a smooth consistency. If you like your apples chunky, just smash them with the back of a fork. Set the apple compote aside to cool slightly.
While the apple compote is cooling, prepare the pancake batter. Combine all of the pancake ingredients together in a bowl and stir to combine. If the batter is too thick, add a bit more Greek yogurt to smooth it out.
Heat a nonstick skillet or griddle over medium-high heat. If you are using a griddle, lightly grease with a tablespoon of butter.
Using a ¼ cup measuring cup, pour the batter onto the hot griddle, keeping 2 inches between each pancake so they have space to spread and are easy to flip.
Cook the pancakes until the tops begin to bubble, around 2 minutes, then carefully flip the pancakes and cook for one more minute.
Transfer the pancakes to a plate and serve immediately.
Notes
Top with peanut butter warmed in the microwave for 30 seconds and more of the apple compote. Enjoy!

I used ingredients that can be found in your Costco store:

1. Organic pre-sliced Crunch Pak sweet apples (in the refrigerator section).

2. Kirkland Signature Natural Creamy Peanut Butter with only dry roasted peanuts and sea salt on the list of ingredients.

3. Kirkland Signature Plain Greek Yogurt in place of milk

4. Carrington Farms Ready to Eat Organic Flax Hemp Blend in place of all-purpose flour
Nutrition Information
Serving size:
3-4 pancakes