Minced Meat with Black Eyed Peas
Minced Meat with Black Eyed Peas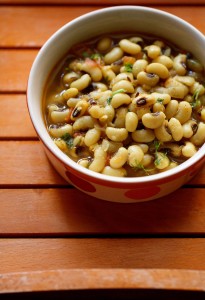 Ingredients
2 Tbsp olive or coconut oil
1 small onion, finely chopped
¼ tsp fresh ginger, finely minced
2 garlic cloves, finely minced
Salt (to taste)
½ tsp red chili powder
Pinch of turmeric powder
½ tsp cumin powder
½ tsp coriander powder
½ pound ground chicken
1 tomato, finely chopped
½ cup water, divided
16 oz can black-eyed peas, drained
2 tsp fresh lemon juice
Fresh cilantro, for garnish (optional)
Instructions
Pour oil into a pan over medium heat.
Add onion and sauté for 4 to 5 minutes, until lightly browned.
Add ginger and garlic to skillet and sauté for 1 minute more.
Add seasoning and cook while stirring for about 1 minute.
Add chicken and cook for 4 to 5 minutes, or until chicken starts to turn white.
Add tomato to chicken and seasoning mixture and cook while stirring occasionally for 4 to 5 minutes.
Add ¼ cup of water to skillet and reduce the heat to medium-low.
Cover and simmer chicken for 5 minutes.
When water gets dry, add black-eyed-peas and cook for 3 minutes.
Add remaining water and lemon juice to skillet and simmer until the oil separates.
Garnish with fresh cilantro before serving, if desired.
Nutrition Information
Serving size:
⅕ recipe
Calories:
173
Fat:
7.7 g
Carbohydrates:
13.7 g
Sodium:
106 mg
Fiber:
3.4 g
Protein:
14.3 g
Cholesterol:
28 mg