Tortilla with Green Chickpeas Curry
Tortilla with Green Chickpeas Curry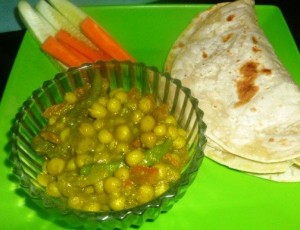 Ingredients
8 Baked Tortillas (made from ~ ¾ cup wheat flour)
~1 ¼ cup green peas
1 large potato (~2/3 lb size)
½ cup diced tomato
1 Tbsp olive oil
1 Tbsp diced onion
1 tsp ginger paste
1 Tbsp mint paste
1 Tbsp cilantro paste
4 green chilies
1 tsp salt
1 cup water
Instructions
Place a small pot over medium heat.
Add potato to pot and fill pot with water, enough to submerge potato slightly in water.
Bring water to a boil.
Boil potato for several minutes, remove from heat, and drain water from pot.
Remove skin from potato, then finely mash the potato.
Place a deep pan over medium heat.
Heat oil in the pan and add onion, ginger paste, salt and water.
After boiling mixture, add green peas and mashed potato.
Cover mixture with a lid until green peas are tender.
Add tomato, green chili, mint and cilantro paste to pan and cook until thick gravy is formed along with the green peas.
Serve with baked tortilla or bread and fresh salad such as cucumber and carrot salad.
Nutrition Information
Serving size:
1¼ cup
Calories:
347
Fat:
4.8 g
Saturated fat:
.6g
Carbohydrates:
65.2 g
Sodium:
773 mg
Fiber:
7.8 g
Protein:
10.7 g
Cholesterol:
0 mg