Oatmeal Waffles
By Cheryl Farley
Oatmeal Waffles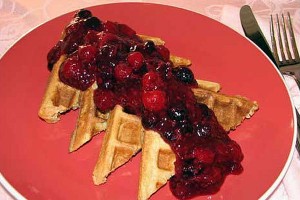 This recipe is just one of several recipes developed and tested for Cheryl Farley's "The 10-Day Diabetes Meal Plan," a doctor-approved Diabetes Meal Plan designed to quickly and efficiently stop diabetes in its tracks.
You will find the food to be nutritious and delicious, unlike many "diabetes meals" which are bland and unappetizing.
To find out more about her program and these recipes please visit her website at
http://cherylfarley.com/
Ingredients
3 ½ cups water
3 ¼ cups quick oats
¼ cup cashews [raw,washed]
2 Tbs. apple juice [frozen concentrate thawed].
½ tsp. salt
Instructions
Preheat waffle iron to highest setting. Iron may need to be sprayed with Pam for the first waffle.
Blend all ingredients for 1 minute. [Hint: if your blender capacity is less than 6 cups, reserve 1 ½ cups of the water to stir in after the mix is blended].
Pour mixture onto hot, non-stick waffle iron. Close iron and bake 10-12 minutes until brown and Crisp.
Remove to a cooling rack and serve. Make several ahead, but make sure they are cool before stacking or they will become soggy.
Excellent for freezing. Toast in oven or pop in a toaster just before serving.