Oven Fried Crunchy Chicken
Oven Fried Crunchy Chicken from Eating Well Through Cancer      
Don't give up fried chicken with this easy, tasty, crunchy oven fried chicken that's diabetic! Always an easy, go-to favorite dinner. From Nausea chapter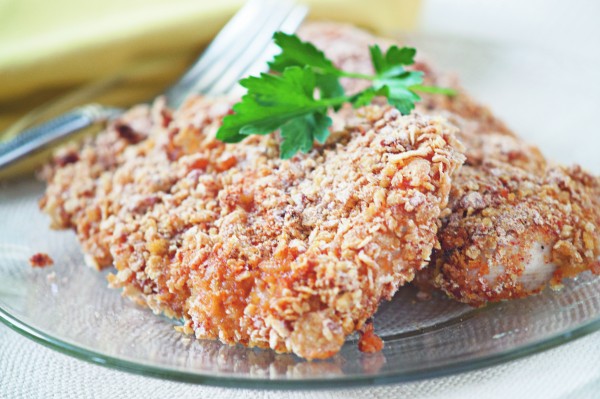 Makes 8 servings
Prep Time: 15 minutes
Cook Time: 50 minutes
1/2 cup nonfat plain yogurt
1 (1-ounce) packet Ranch style dressing mix
2 pounds boneless skinless chicken cutlets (or pounded thin)
3 cups corn flakes
3 tablespoons all-purpose flour
1 teaspoon paprika
Salt and pepper to taste
In large plastic resealable bag mix together yogurt and Ranch dressing mix. Add chicken, mixing well to cover and refrigerate 2 hours or overnight.
Preheat oven 375°F. Line baking pan with foil and coat with nonstick cooking spray.
Crush corn flakes into crumbs and mix with flour and paprika; season to taste. Remove chicken and coat with corn flake crumb mixture.  Place on prepared pan and refrigerate until ready to bake.
Bake 45-50 minutes or until tender and golden brown.
Nutritional information per serving:Calories 193, Calories from Fat 15%, Fat 3g, Saturated Fat 1g, Cholesterol 73mg, Sodium 546mg, Carbohydrates 14g, Dietary Fiber 0g, Total Sugars 2g, Protein 26g, Diabetic Exchanges: 1 starch, 3 lean meat
Terrific Tip: If you need to rest after eating a meal, sit up or recline with your head raised for at least 1 hour to limit stomach distress.
Nutrition Nugget: The Ranch dressing seasons the chicken with extra flavor; however, if you aren't feeling well, you can just use salt and pepper or other spices you can tolerate.
---
You can find many such great recipes in Holly Clegg's book Eating Well Through Cancer: Easy Recipes & Tips to Guide you Through Treatment and Cancer Prevention 3rd Edition