Sugar-Free Carrot Muffins
Sugar-Free Carrot Muffins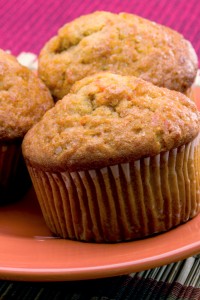 Ingredients
⅔ cup almond flour
½ cup all-purpose unbleached white flour
⅓ cup wheat germ
1 ½ tsp. baking powder
1 tsp. baking soda
¼ tsp. kosher salt
¼ cup SPLENDA® Sugar Blend
½ cup applesauce, unsweetened
¾ cup buttermilk
2 medium eggs, lightly beaten
1 cup carrot, grated
vegetable oil spray
Instructions
Preheat oven at 180 C or 350 F. Lightly grease the muffin tins with vegetable oil spray.
In a large bowl, mix together the almond flour, white flour, wheat germ, baking powder, baking soda, kosher salt, and SPLENDA® Sugar Blend.
Add in the applesauce, buttermilk, eggs, and grated carrot onto the mixture. Stir with wooden spoon until just blended (do not over mix).
Fill half of the muffin tins with the prepared batter.
Place in the oven and bake for 10-12 minutes or until golden and cooked through. Allow to cool in wire rack.
Serve or store in a dry sealed container.
Notes
Diabetic Exchange

1 Starch, 0 Fruit, 0 Fat,
0 Vegetable, 0 Low Fat Milk
Nutrition Information
Serving size:
1 pc.
Calories:
83
Fat:
1.9g
Saturated fat:
0g
Unsaturated fat:
0g
Trans fat:
0g
Carbohydrates:
12.9g
Sugar:
6.6g
Sodium:
188mg
Fiber:
1.1g
Protein:
3.2g
Cholesterol:
23mg