Spicy Zucchini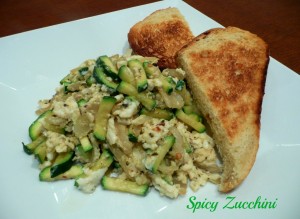 This fragrant, flavorful vegetable dish can easily be made with full-fat or non-fat yogurt to suit your meal plan and taste preferences. And, since there is such a big variety of herbs and spices in it, you can also get away with adding less salt.
Ingredients
cup olive oil
1 onion, chopped
6 zucchini, peeled, seeded, lengthwise halved and sliced
½ teaspoon salt
2 teaspoons chili powder
½ teaspoon ground turmeric
1 teaspoon dry coriander, ground
½ teaspoon garlic powder
7 peppercorns
3 cloves, whole
½ cups water
4 tomatoes, chopped
2 tablespoons plain yogurt
Instructions
Heat oil in a pan over medium and sauté onion for 5 minutes, until lightly browned.
Add zucchini, salt, chili powder, turmeric, coriander, garlic powder, peppercorns and cloves.
Cook, stirring for 2 minutes. Then add ½ cup water and keep stirring for another 3 minutes.
Add in the tomatoes and yogurt. Cook covered on low for 10 minutes, stirring occasionally. Add a little water if needed while cooking.
Serve hot with whole grain flat bread.
Nutrition Information
Calories:
160
Fat:
11.0 g
Saturated fat:
1.7 g
Carbohydrates:
15.1 g
Sugar:
8.1 g
Sodium:
279 mg
Fiber:
4.7 g
Protein:
4.5 g
Cholesterol:
0 mg