Cauliflower and Peas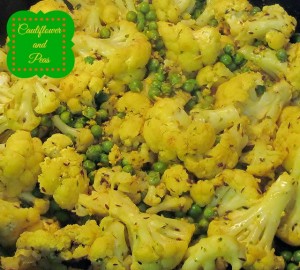 Why not enjoy a classic side dish of cauliflower and peas tonight?
Ingredients
2 Tbsp oil
1 cup peas
2 cups cauliflower (cut into big chunks)
2 cups potato (cut in small chunks)
2 tsp garlic paste
3 tsp salt
1 tsp cumin seeds
2 tsp cilantro powder
2 tsp green chili paste
1 Tbsp water
Instructions
Take a pan and put it over a medium flame.
Add oil. When oil is hot, add cumin seeds.
When cumin seeds start crackling add the peas. Cook for 3 to 4 minutes.
Add garlic and green chili paste. Add potato chunks.
Cover the pan with lid and cook potato about 8 minutes, or until slightly underdone.
Add cilantro powder and salt to taste.
Add cauliflower chunks. Sprinkle a little bit of water and cook again for 10 minutes.
Turn off the heat and serve.
Enjoy this recipe with Indian chapattis or paratha.
Nutrition Information
Calories:
106
Fat:
2.2 g
Carbohydrates:
18.6 g
Sugar:
5.3 g
Sodium:
503.4 mg
Fiber:
5.4 g
Protein:
4.4 g
Cholesterol:
0.0 g