This is an easy, warming soup to have on cold nights. For a gluten-free version, substitute the egg noodles for rice noodles, or omit them entirely.

Tarragon Noodle Soup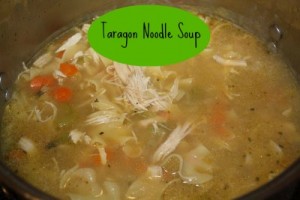 Ingredients
1 bay leaf
1 ½ medium carrots, thinly sliced
4 cups chicken broth, preferably homemade
2 Tbsp fresh tarragon leaves, torn
1 celery rib, thinly sliced
1 Tbsp fresh lemon juice
½ tsp salt
2 cups uncooked medium egg noodles
¼ teaspoon pepper powder
3 cups roughly chopped turkey
2 Tbsp olive oil
Instructions
Place one large saucepan over medium flame. Add chicken broth, bay leaf, carrot, tarragon leaves, celery, salt and pepper powder. Bring this mixture to a boil.
Lower the heat, cover and simmer for 5 minutes, or until all vegetables are soft.
Heat the olive oil in a large pot over medium-high heat. Add turkey, and cook until heated through, stirring occasionally. This will take around 3 to 4 minutes.
Return to a boil and add egg noodles.
Cook for 5-7 minutes or until noodles are tender.
Stir this vegetable and noodles mixture in to cooked turkey. And cook it for another 3 minutes.
Remove bay leaf. If you desire, you can garnish this soup with additional tarragon. Enjoy!
Nutrition Information
Calories:
219
Fat:
5 g
Saturated fat:
1 g
Carbohydrates:
17 g
Sugar:
0.2 g
Sodium:
1250 mg
Fiber:
1 g
Protein:
25 g
Cholesterol:
74 mg