Wonderful Pistachios Chocolate Brownie Cookies
Wonderful Pistachios Chocolate Brownie Cookies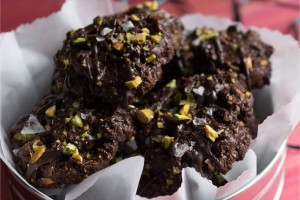 These easy-to-make cookies pack a ton of chocolate punch with gorgeous green Wonderful Pistachios to make them festive.
Author:
Wonderful Pistachios & Almonds
Ingredients
⅓ Cup all-purpose flour
2 Tablespoons cocoa powder
½ Teaspoon baking powder
¼ Teaspoon salt
16 Ounces chopped dark chocolate
¼ Cup unsalted butter
3 Eggs, plus 1 egg yolk
¾ Cup light brown sugar
½ Cup granulated sugar
2 Cups, shelled Wonderful Pistachios Roasted & Salted, roughly chopped
3 Ounces bittersweet chocolate, chopped
2 Teaspoons flaked sea salt
Instructions
Heat oven to 350°F and line 2 baking sheets with parchment paper.
Whisk together flour, cocoa powder, baking powder and salt; set aside.
Place chocolate and butter in a microwave-safe bowl and heat in the microwave until just hot and butter is melted, 1 to 2 minutes. Remove bowl from heat and stir mixture, until completely melted; set aside to cool.
Beat eggs and both sugars in an electric mixer, with the whisk attachment, at medium speed, about 5 minutes, until thickened and light. Pour cooled chocolate mixture in two batches, mixing after each addition. Add flour mixture and mix until just combined. Stir in 1½ cups Wonderful Pistachios by hand.
Drop heaping teaspoons of dough, about 2 inches apart, onto baking sheets. Bake about 10 minutes, alternating pans half-way through, until cookies are puffed and cracked on top. Remove to wire rack to cool completely. Repeat with remaining batter.
Meanwhile, chop remaining Wonderful Pistachios finely. Melt bittersweet chocolate. Place wire rack with cookies on baking sheet. Drizzle chocolate over cookies and sprinkle with remaining finely chopped Wonderful Pistachios and flaked sea salt.