Blue-eye with green chili nam Jim and Choy sum
Blue-eye with green chili nam Jim and Choy sum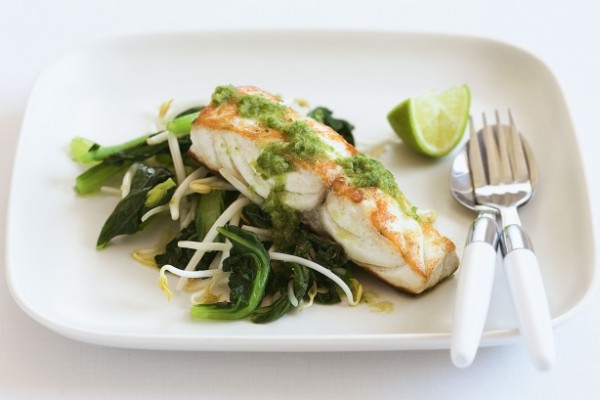 Ingredients
Skinless blue-eye fillets
2 tsp olive oil
2 bunches Choy sum (cut into 5cm lengths)
1 cup bean sprouts
1 garlic clove (minced)
Lime wedges (for serving)
2 green chilies (deseeded, roughly chopped)
Fresh lemon juice
2 tsp fish sauce
¼ tsp raw sugar
2 coriander roots (roughly chopped)
Ground black pepper powder
Instructions
• To make the green chili nam jim, pound all ingredients in a mortar and pestle till it becomes very smooth.
• Take a non-stick fry pan and put it on medium flame. Add oil. Add Skinless blue-eye fillets.
• Season the fish with sea salt and freshly ground black pepper powder. Let this fillet cook for 3 to 4 minutes on each side until it cooked properly.
• By the meantime, in saucepan, add water and bring it to boil. Add the Choy sum. Cook it for 2 minutes until they become tender. Then drain it.
Nutrition Information
Calories:
120
Fat:
1 g
Saturated fat:
0.2 g
Carbohydrates:
0 g
Sugar:
1.3 g
Sodium:
0 mg
Fiber:
0 g
Protein:
21 g
Cholesterol:
35 mg