Butter Garlic Crab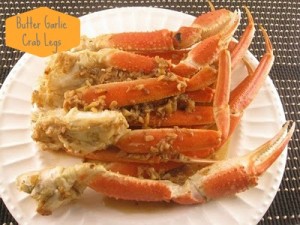 This easy seafood dish is a great, low-carb weekday meal - it's flavorful, fast and (if you buy crab legs in season) cheap.
Ingredients
4 large crab legs
3 Tbsp finely chopped garlic
2 to 3 green chilies, minced
1 Tbsp unsalted butter
1½ Tbsp olive oil
Salt to taste
Instructions
With the help of a clean, unused tooth brush, clean the crab legs thoroughly.
Take a heavy bottomed pot and put it on medium flame. Add water and bring to a boil. Add the crabs and little salt.
Take the crab legs out after about 3 to 4 minutes.
Heat a wok or large pan on medium flame. Add olive oil and then, after a few seconds, add the butter.
Add garlic and sauté until fragrant. Add green chilies and cook for 5 more seconds.
Add the crab. Season with little salt and toss well.
Cover the wok with a lid and simmer it for 8 to 10 minutes. Check often to avoid burning.
Turn off the flame when the crab has turned reddish pink in color. Serve hot and enjoy!
Notes
Exchanges: 1 tbsp Cream cheese 1 tbsp Salt pork ¼ oz. 1 vegetable, 1 fruit.
Nutrition Information
Calories:
171
Fat:
9.66 g
Carbohydrates:
1 g
Sugar:
0 g
Sodium:
4 mg
Protein:
14 g
Cholesterol:
31 mg