Egg tart- Hong Kong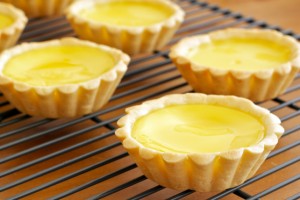 Ingredients
40ml Water
20ml Fresh Milk
20g Caster Sugar
1 Large Egg
1 Teaspoon Condensed Milk
6 Prepared Tarts
Instructions
• Preheat the oven at 140 degrees. Take one saucepan, add water and bring it to the boil.
• Add sugar, let the water boil till the sugar dissolves properly and keep aside till cool.
• In a small bowl crack the egg; add fresh milk and condensed milk whisk till well mixed. Don't over whisk it.
• Add this egg mixture in cooled sugar syrup and stir well.
• Now filter the entire mixture with the finest sieve two times so that if egg clusters is there then can easily come out.
• Now watchfully fill the prepared tart shells with egg mixture till the rim.
• Bake this tart in oven for about 25 minutes or till egg custard gain the pudding like texture. Enjoy!!!
Nutrition Information
Calories:
225
Fat:
10.9 g
Saturated fat:
4.4 g
Carbohydrates:
27.6 g
Sugar:
12.3 g
Sodium:
0.0 mg
Fiber:
0.8g
Protein:
4.8 g
Cholesterol:
0.0 mg