Mango Pudding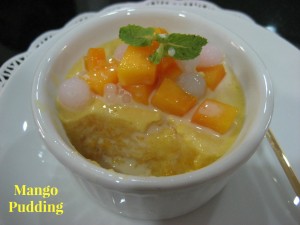 This creamy, tropical dessert can be made with a sweetener of your choice. It would also taste great sweetened only by the mango puree.
Ingredients
1½ cup mango puree (no-sugar added)
½ cup evaporated milk (sugar-free)
4 cups skimmed milk
2 tablespoons rice flour
½ teaspoon green cardamom powder
2 packets Stevia or other sweetener
2 tablespoons crushed almonds
2 tablespoons chopped pistachio
Mango slices
Instructions
Heat milk in a saucepan and add in rice flour and cardamom powder. Let simmer on medium-low for 20-30 minutes, or until the milk is thickened a little.
Once thick, add mango puree, evaporated milk, and Stevia. Cook for 5-7 minutes and stir until well combined.
Place in a serving bowl and garnish with mango slices and nuts. Serve hot or chilled.
Nutrition Information
Calories:
248
Fat:
6.2 g
Saturated fat:
1.9 g
Carbohydrates:
38.2 g
Sugar:
19.1 g
Sodium:
35 mg
Fiber:
2.9 g
Protein:
11.5 g
Cholesterol:
9 mg