Chicken with Champagne and 40 Cloves of Garlic
Chcken With champagne and 40 Cloves of Garlic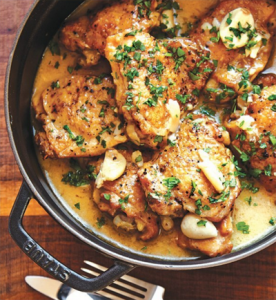 If you know me, you know I love garlic. There is no such thing as too much garlic, which is why Chicken with Champagne and 40 Cloves of Garlic is one of my favorites. The combination of the garlic and the subtleness of the champagne pair really well here. Adding champagne brings out a nice flavor and an elegance that will impress any guest.
Ingredients
2 tablespoons olive oil
10 to 12 in-bone chicken thighs (about 5 pounds)
Kosher salt and freshly ground black pepper
40 garlic cloves, peeled (3 whole heads)
¼ cup fresh lemon juice, or to taste
1 cup Champagne or other dry sparkling or white wine
2 cups chicken stock
6 sprigs fresh thyme
3 tablespoons all-purpose flour
2 tablespoons unsalted butter, at room temperature
3 tablespoons chopped fresh flat-leaf parsley
Instructions
Prereat the oven to 325°F. Heat a large, heavy-bottomed Dutch oven over medium-high heat. when hot, add the oil.
Season the chicken on both sides with 2 teaspoons of salt and 1 teaspoon of pepper. working in batches so as not to crowd the pot, sear the chicken, skin side down, until golden brown, about 6 minutes per batch. Brown briefly on the second side, then transfer the browned chicken to a plate.
Add the garlic to the pot and cook, stirring, until lightly golden, about 1 to 2 minutes. Add the lemon juice, champagne, chicken stock and thyme, and return the chicken to the pot, nestling the pieces down into the liquid. Make sure some of the garlic is sitting on top of the chicken. Bring the liquid to a boil, cover the pot, and place it in the oven. Cook, stirring once midway to ensure even cooking, until the chicken is falling-off-the-bone tender, about 1 hour and 15 minutes.
Transfer the chicken and some of the garlic to a platter, and cover to keep warm. Remove and discard the thyme sprigs.
In a medium bowl, mash the flour and butter together to form a smooth paste. Slowly whisk ½ cup of the hot juices from the pot into the paste until smooth, then add this mixture to the pot along with 2 tablespoons of the parsley, and whisk to combine. Don't worry if some of the garlic gets smashed - they will help to thicken and enrich the sauce. cover and cook over medium heat until the gravy has thickened, 10 to 20 minutes longer.Season the sauce with ½ teaspoon of salt and ¼ teaspoon of pepper, or more to taste. Serve the chicken with the sauce over the top and sprinkled with the remaining 1 tablespoon of parsley.