Chocolate Donuts with Truvia Natural Sweetener
Chocolate Donuts with Truvia Natural Sweetener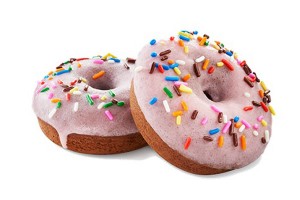 These soft and cakey donuts rich with chocolate flavor are topped off with a pink vanilla glaze and sprinkles to keep your sweet tooth satisfied. Developed by Hungry Girl, these donuts have 18% fewer calories* and 40% less sugar* than the regular sugar-sweetened version. Makes 6 donuts.
Ingredients
DONUTS
1 1⁄4 cups moist-style devil's food cake mix
1⁄2 cup canned pure pumpkin
1⁄4 cup egg whites or fat-free liquid egg substitute
TOPPING
1⁄3 cup Truvía® Natural Sweetener Spoonable
1 tsp cornstarch
1 Tbsp light whipped butter or light buttery spread
1⁄4 tsp vanilla extract
1 drop pink food coloring
1 Tbsp rainbow sprinkles
Instructions
Preheat oven to 400°F. Spray a 6-cavity standard donut pan with nonstick spray.
In a large bowl, mix cake mix, pumpkin, egg whites/substitute, and 1⁄4 cup water until completely smooth and uniform. Evenly distribute batter into the rings of the donut pan. Gently smooth out the tops. Bake until a toothpick inserted into the center of a donut comes out mostly clean, about 12 minutes.
Meanwhile, place a cooling rack over a baking sheet. Let donuts cool completely, about 10 minutes in the pan and 15 minutes on the cooling rack.
In a wide microwave-safe bowl (a little larger than one of the donuts), whisk Truvía® Natural Sweetener with cornstarch until uniform.
Place 2 Tbsp water in a small microwave-safe bowl. Add butter, vanilla extract, and food coloring. Microwave for 20 seconds, or until water is hot and butter has melted. Mix well, and add to the Truvía® Natural Sweetener mixture. Vigorously whisk until completely smooth and uniform.
Microwave for 1 minute and 20 seconds, or until mixture is fully bubbling. Let cool slightly.
One at a time, dunk the tops of the donuts into the topping, coating the top halves. Return to the cooling rack, top with sprinkles, and allow to set.
Notes
*These donuts have 130 calories and 12 grams of sugar per serving compared to regular sugar-sweetened version which have 160 calories and 20 grams of sugar.