Apple Quinoa Bake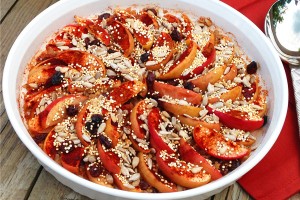 Author:
Lauren Harris-Pincus, MS, RDN
Ingredients
3 medium-large Gala or Fuji apples, cored and sliced with peel on (approx. 15-18 slices per apple)
1 teaspoon cinnamon
¼ cup raisins, packed
¼ cup sunflower seeds
2 Tablespoons uncooked quinoa
½ cup water
Instructions
Spread ½ the raisins on bottom of a 9x9 brownie pan.
Add apple slices and spread evenly over pan.
Sprinkle cinnamon over apples.
Add remainder of raisins and sunflower seeds.
Sprinkle on the quinoa.
Pour water into corner of pan so it coats the bottom, don't pour over apples.
Bake for 50 to 60 minutes taking care not to burn the raisins.
Notes
This recipe has no added sugar, and the flavor will vary depending on the sweetness of the apples. If the apples are on the tart side, you may want to add a small amount of sugar or stevia.
Developed by Lauren Harris-Pincus, MS, RDN, Owner of
www.NutritionStarringYOU.com
Nutrition Information
Calories:
160
Fat:
4g
Saturated fat:
0.5g
Sugar:
18g
Sodium:
35mg
Fiber:
6g
Protein:
3g