Daal (Red lentil) Pan Cake
Daal (Red lentil) Pan Cake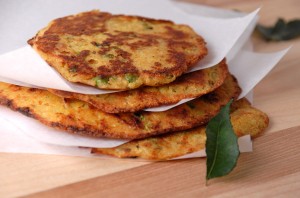 Ingredients
1 cup red lentil
1 cup rice powder
1 tbs onion paste
1 tsp turmeric powder
1 tsp chili powder
1 tsp salt
1 tbs olive oil
Instructions
Add 2 cups of water with the red lentil and let it soak into the water for 2-3 hour.
Grind the soaked red lentil by a blender and then mix with rice powder. Prepare batter adding water with the mixture. Add onion paste, turmeric powder, chili powder and salt with the mixture and stir well.
Grease the cooking pan with a little bit of oil and place the pan on the burner. Put 2 tbs batter on the oil greased pan with medium heat and make it a cake.
When the cake dries up and small holes are created on it, remove it with a non-metallic spatula. Follow the same process for the rest of the pan cake batter. The daal pan cake is ready to eat.
Nutrition Information
Calories:
221
Fat:
2.9
Trans fat:
0.0g
Carbohydrates:
38.5g
Sugar:
0.9g
Sodium:
395mg
Fiber:
103 g
Protein:
10.0g
Cholesterol:
0mg