Mexican Tilapia Stuffed Peppers
Mexican Tilapia Stuffed Peppers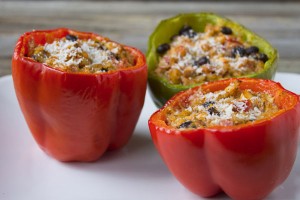 Stuffed peppers are the best. They utilize end of the summer bell peppers and you can pretty much make them your own based on what flavors you like. Feeling spicy? Go for Mexican themed. Feeling Mediterranean? Try a Greek-inspired pepper with feta, olives, cucumbers, rice, and tzatziki. Feeling saucy? Go Italian style with tomato sauce, mozzarella, and basil. The options are endless.

I was feeling a little fiery and decided to go for Mexican style. Many people will stuff peppers with ground turkey or beef but this pescetarian decided to try fish! And it turned out awesome. They were super flavorful and bright in color, making it a dish any family would run back to the dinner table for.
Ingredients
1 lb tilapia filets (can substitute any white fish such as haddock or cod)
2 tsp chili powder
2 tsp paprika
½ tsp cayenne pepper
½ tsp salt
2-3 tbsp olive oil
1 cup black beans, rinsed
1 cup cooked brown rice
2 tomatoes, diced
¾ cup sour cream
¾ cup Pepper Jack cheese
6 red or green bell peppers, stem ends, ribs, and seeds removed
¾ cup Cojita cheese, a mild Mexican cheese (can substitute Mozzarella or Cheddar cheese)
Instructions
Preheat oven to 350 degrees F. Fill a baking dish with 1 cup water.
Combine chili powder, paprika, cayenne pepper, and salt in a small bowl. Sprinkle ½ of the spice rub over both sides of the tilapia and rub it into the fish. Let sit for at least 10 minutes.
In a large saucepan, heat olive oil over medium heat. Cook tilapia for 3-5 minutes on each side, until fish is tender and flaky. Remove fish from heat and cut into 1-inch pieces.
Over low heat, add beans, tomatoes, rice, Pepper Jack cheese, and sour cream to the saucepan. Sprinkle with remaining spice mix and toss to coat. Add fish back to the pan and toss to combine. Remove from heat.
Place bell peppers tightly into baking dish. Spoon tilapia mixture into the peppers right up to the top. Place baking dish in oven at 350 degrees F and bake for 30-45 minutes, or until peppers are tender. Remove from oven and sprinkle Cojita cheese on top of peppers.