Spinach Artichoke Dip from Eating Well Through Cancer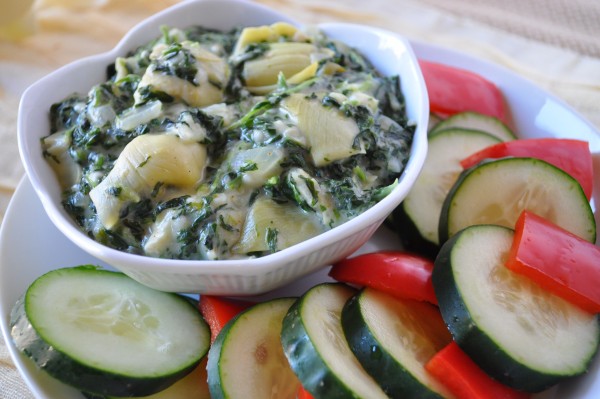 Here's my favorite spinach dip that explodes with flavors of creamy Brie and Parmesan.  Try serving with fresh veggies.  Serve this delicious diabetic spinach dip for parties, tailgating or get-togethers. From Sore Mouth or Throat chapter
Makes 20 (1/4-cup) servings
Prep Time: 15 minutes
1 onion, finely chopped
1/3 cup all-purpose flour
2 cups skim milk
1 teaspoon minced garlic
2 (10-ounce) boxes frozen chopped spinach, thawed and drained
4 ounces Brie cheese, rind removed and cubed
1/3 cup grated Parmesan cheese
1 (14-ounce) can artichoke hearts, drained and finely chopped
Salt and pepper to taste
In nonstick pot coated with nonstick cooking spray, sauté onion until tender. Stir in flour. Gradually add milk, stirring constantly, heating until bubbly and thickened.
Add garlic, spinach, Brie, and Parmesan cheese, stirring until cheese is melted. Stir in artichokes, and season to taste.
Nutritional information per serving:Calories 54 Calories from fat 34% Fat 2g Saturated Fat 1g Cholesterol 7mg Sodium 125mg Carbohydrate 5g Dietary Fiber 1g Protein 4g Dietary Exchanges: 1 vegetable, 1/2 fat
Terrific Tip:  Keep in the refrigerator to pull out for a snack or serve as a side vegetable.
Nutritional Nugget: Between the spinach and the milk and cheeses, this is a calcium rich dish.
---
You can find many such great recipes in Holly Clegg's book Eating Well Through Cancer: Easy Recipes & Tips to Guide you Through Treatment and Cancer Prevention 3rd Edition