Spinach Artichoke Dip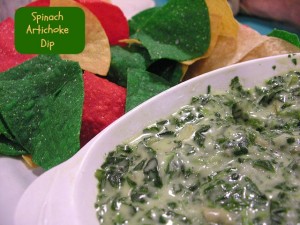 This creamy, gluten-free dip makes a decadent appetizer or side dish, and is best paired with raw vegetables. If you'd prefer a less rich version, substitute the sour cream, mayonnaise and cream cheese with low-fat varieties.
Ingredients
2 cups frozen spinach, chopped and thawed
4 cups artichoke hearts, drained and chopped
2 cups Parmesan cheese
2/4 cup sour cream
⅓ cup mayonnaise
1 cup cream cheese
2 tsp garlic, minced
Instructions
Preheat the oven to 375°F.
In one bowl, combine artichoke hearts, spinach, and Parmesan cheese.
Add sour cream, mayonnaise, cream cheese and garlic. Mix well.
Bake this mixture for about 25 to 30 minutes.
Serve with sliced raw vegetables or chips and enjoy!
Nutrition Information
Calories:
170
Fat:
13.0 g
Saturated fat:
6.5 g
Carbohydrates:
6.7 g
Sugar:
1.7 g
Sodium:
328.4 mg
Fiber:
2.8 g
Protein:
7.9 g
Cholesterol:
35.4 mg