Baked Curried Zucchini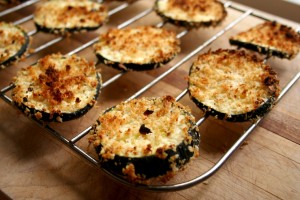 Ingredients
1 tablespoon sunflower oil, divided
1 large red onion, chopped finely
½ teaspoon ginger paste
1 tablespoon green curry paste
1 tablespoon orange zest, grated freshly
2 teaspoons cumin seeds
Salt, to taste
1 pound zucchini, grated
2 eggs, beaten
Instructions
Preheat the oven to 325 degrees F. Grease a baking dish with 1 teaspoon oil.
In a pan, heat remaining oil and sauté onion for 2 to 3 minutes. Add ginger, curry paste, orange zest, cumin and salt and cook for 2 minutes.
In a bowl, add curry mixture, zucchini and eggs and mix well.
Place the zucchini mixture in prepared baking pan. Bake for 50 minutes or till a toothpick inserted in the center comes out clean.
Nutrition Information
Calories:
113
Fat:
6.9g
Saturated fat:
1.1g
Trans fat:
0 g
Carbohydrates:
9.5g
Sugar:
3.7g
Sodium:
233mg
Fiber:
2.3g
Protein:
4.8g
Cholesterol:
82mg